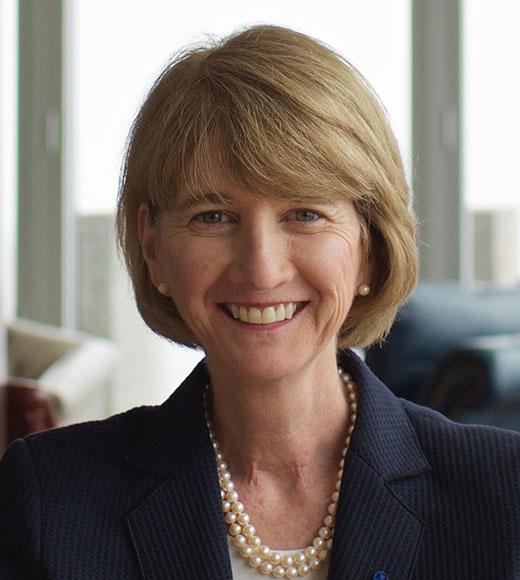 Position Title

Chancellor of the State University of New York (SUNY)
Bio
Dr. Kristina M. Johnson joined The State University of New York as its 13th chancellor in September 2017. Immediately prior to joining SUNY, Dr. Johnson was co-founder and CEO of Cube Hydro Partners, LLC, a clean-energy infrastructure company focused on building and operating hydropower plants in North America. She also previously served as Under Secretary of Energy at the U.S. Department of Energy.
Dr. Johnson served as provost and senior vice president for Academic Affairs at Johns Hopkins University from 2007 to 2009, and as dean of the Pratt School of Engineering at Duke University from 1999 to 2007.
Dr. Johnson's academic awards include the Dennis Gabor Prize for creativity and innovation in modern optics (1993) and the John Fritz Medal (2008), widely considered the highest award in engineering. She is a member of the National Academy of Engineering and the National Academy of Inventors, and was inducted into the Women in Technology Hall of Fame (2003) and the National Inventors Hall of Fame (2015). She holds 118 U.S. and International patents, has published 149 referenced papers and proceedings, and has been awarded five honorary degrees.
A fellow of the Optical Society of America, the International Electronics and Electrical Engineering (UEEEE), the International Society for Optical Engineering (SPIE), and the American Association for the Advancement of Science (AAAS), Dr. Johnson holds the distinction of having been named an NSF Presidential Young Investigator in 1985 and a Fulbright Faculty Scholar in 1991.
In 2010 she received the Milton Steward Award from the Small Business Technology Council (SBTC) and co-founded Color Link, Inc., which was later sold to RealD, and is responsible for 3D effects in films such as Avatar, Gravity, among hundreds of others.
Dr. Johnson received her BS with distinction, MS, and PhD in electrical engineering from Stanford University. After a NATO post-doctoral fellowship at Trinity College in Dublin, Ireland, she joined the University of Colorado-Boulder's faculty in 1985 as an assistant professor and, later, full professor. From 1994 to 1998, Dr. Johnson directed the NSF/ERC for Optoelectronics Computing Systems Center at the University of Colorado and Colorado State University.
Tags