CHANCELL-ING: Attitude of Gratitude
I hope this final column of 2021 finds you well this holiday season. As I reflect on the year, I'm more aware than ever that this is the season for gifts and gratitude.
Let's start off with what I'll call a gift, but one I'm grateful to provide. We're thrilled to welcome back the Class of 2020 for its makeup graduation celebrations. I certainly recognize how difficult it was to postpone our 2020 commencements due to the pandemic. One of my daughters graduated from college that spring, and having her commencement postponed was heartbreaking.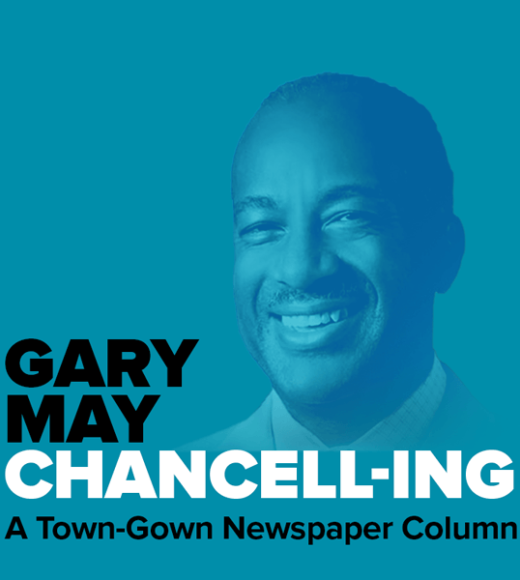 I promised that UC Davis' Class of 2020 wouldn't be forgotten, and I kept my word. We are holding ceremonies for 2020 graduate students on Dec. 9 and two makeup events on Dec. 10 for undergrads.
More than 1,600 undergraduates (now alumni) have registered and it's going to be a time of great joy as they're recognized for having achieved this major milestone in their lives. You can bet that downtown Davis will be filled with good cheer as families head to restaurants for post-commencement celebrations.
Overall, there's been much to be grateful for in 2021. Our return to in-person instruction has gone as safely and smoothly as possible. Ninety-nine percent of our students are vaccinated against COVID-19. They're following public health requirements, as are our faculty and staff, to wear masks and test regularly. We've managed to keep the on-campus COVID-19 test positivity rate incredibly low throughout fall quarter.
Even with our compliance and relative success, now's certainly not the time to let our guard down. Many public health experts are predicting a winter surge of COVID-19 as holiday travel gets underway and activities move indoors. We are going to remain ever vigilant, especially with news about the emerging Omicron variant.
Working together, coming back
I couldn't be more thankful to live in a city where its people are so dedicated to protecting themselves and others during the pandemic. Through Healthy Davis Together, a joint initiative between UC Davis and the city of Davis, we've provided free testing services and generated trust and goodwill in our community. I applaud the Davis City Council for voting unanimously to contribute funds that extend Healthy Davis Together's community testing program through June of 2022.
It's rewarding to see our community thriving over these past months. The Mondavi Center has reawakened with wonderful performances in front of live audiences. While it may be closed to the public while future exhibitions are readied, the Jan Shrem and Maria Manetti Shrem Museum of Art is teeming again with creative energy and community. At one recent event, we celebrated the 101st birthday of Wayne Thiebaud, the iconic artist UC Davis faculty member, and the fifth anniversary of the museum's opening.
Thiebaud himself was unable to be there, but Gov. Gavin Newsom and First Partner Jennifer Siebel Newsom, along with San Francisco Mayor (and UC Davis alum) London Breed all were present. Nights like that can't help but lift your spirits.
I'm optimistic about the months ahead. The heart of UC Davis' basketball season will be underway, with our women's team a big favorite to repeat as Big West champions.
And you can't forget the return of in-person Picnic Day, which is scheduled for April 23, 2022, after two years as a virtual event. How fun it will be to see the Doxie Derby up close again, along with the marching band battles and chemistry magic shows. Who knows, you might see LeShelle walking the fashion runway again.
We've gotten through a difficult year together. We have more to come, but we have further built our town-gown partnership. I'm grateful for that gift.
Chancellor Gary S. May's monthly column appears first in The Davis Enterprise and then in Dateline UC Davis.
Tags