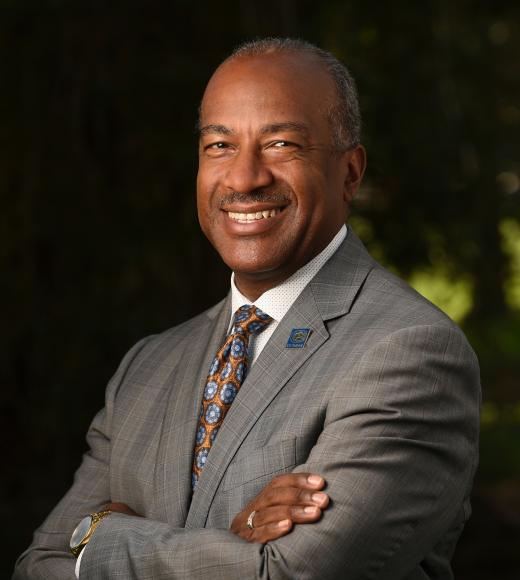 Bio
Chancellor Gary S. May
Gary S. May leads the most comprehensive campus in the University of California system, with four colleges and six professional schools. UC Davis enrolls more than 40,000 students, brings in more than $1 billion annually in sponsored research and contributes more than $12.5 billion annually to California's economy. In 2019, UC Davis reached the Top 10 in four national rankings of universities, including fifth among public universities in the Wall Street Journal/Times Higher Education College Rankings.
His vision as UC Davis' seventh chancellor is to lead the university to new heights in academic excellence, inclusion, public service and upward mobility for students from all backgrounds.
May believes success is best judged by how we enhance the lives of others. Throughout his career, he has championed diversity and mentorship in both higher education and the workplace. He developed nationally recognized programs to attract, mentor and retain underrepresented groups in the STEM fields of science, technology, engineering and math. In 2015, President Barack Obama honored May with the Presidential Award for Excellence in STEM Mentoring. In 2021, he received the Lifetime Mentor Award from the American Association for the Advancement of Science and an honorary doctorate from the Georgia Institute of Technology. In 2023, he received the Lifetime Member of the Year award from the National Society of Black Engineers.
As chancellor of one of the world's great public research universities, Gary S. May leads UC Davis as it advances its mission in several key areas, including:
Achieving equal access to education and opportunity for students of all backgrounds
Building diversity and nurturing success among students, faculty and staff
Deepening the university's engagement with Sacramento, Davis and the surrounding region
Conducting useful research and outstanding scholarship in areas of critical need to California, the nation and the world
Academic Leadership
A prominent voice in higher education, May is a member of the Boyer 2040 Commission, which was created by the Association for Undergraduate Education at Research Universities to design a blueprint for excellence and equity in undergraduate education at U.S. research universities.
He serves as Chair of the Association of Public and Land-Grant Universities Board of Directors, Chair of the Universities Research Association's Council of Presidents, board member for the American Council on Education and member of the governing board of the Hispanic Association of Colleges and Universities. He is a member of the Task Force on Higher Education and Opportunity, member of the National Academy of Engineering's Committee on Racial Justice and Equity, member of the Fulbright Scholar Advisory Board (CIES) and an advisor for the National Society of Black Engineers. He was selected as a Fellow member of the American Society for Engineering Education in 2021.
Business Accolades and Leadership
May also believes in the positive impact academia and industry have when they partner for the common good. He is a Commissioner of the Council on Competitiveness, a national organization dedicated to growing America's economy, fostering innovation and increasing productivity through public-private partnerships.
In April 2018, he launched Aggie Square in partnership with the City of Sacramento to spur economic growth and help create jobs at a variety of education levels. He and Sacramento Mayor Darrell Steinberg were recognized with a Leadership Award from the Association of University Research Parks for creating this unique partnership.
May serves as vice chair of the Greater Sacramento Economic Council (GSEC). He was recognized by the Sacramento Kings Foundation as a 2021 Dream All Star, for his positive impact on the Sacramento region and commitment to championing initiatives that support opportunities for the Black community.
In April, 2021, he was honored as one of Sacramento's Most Admired CEOs by the Sacramento Business Journal. In 2019, he was named among The Sacramento 300, the most powerful business leaders in metro Sacramento.
Scientific and Academic Accolades 
May has won numerous honors for his research in computer-aided manufacturing of integrated circuits. He authored more than 200 technical publications, contributed to 15 books and holds a patent related to this work. In 2010, he was named "outstanding engineering alumnus" of UC Berkeley, where he earned his master's and Ph.D. degrees in electrical engineering and computer science. In addition:
In September 2018, May was inducted to the National Academy of Engineering for his success in growing diversity and his innovations in semiconductor manufacturing.

In April 2020, he was elected to the American Academy of Arts and Sciences for "educational and academic leadership."

In 2021, he was selected as a Fellow Member of the American Society for Engineering Education.

He received the 2020 Career Services Champion Award from the National Association of Colleges and Employers for his forward-thinking leadership in support of career services.

In 2020, he was named among 1,000 Inspiring Black Scientists in America by Cell Mentor.

In 2020, he was honored as a Bay Area Champion of Health by the National Medical Fellowships Bay Area Council.

In 2021, he received the National Medical Fellowships' Excellence in Education Award.
An accomplished scholar and engineer, May came to UC Davis in 2017 after a three-decade career at the Georgia Institute of Technology in Atlanta. He was dean of the institute's College of Engineering — the largest and most diverse school of its kind in the nation.
Prior to his appointment as dean, May was the Steve W. Chaddick Chair of Georgia Tech's School of Electrical and Computer Engineering. He also served as the executive assistant to then-Georgia Tech President G. Wayne Clough.
May serves on the board of directors for Leidos and the advisory board for the Lawrence Berkeley National Laboratory.
A native of St. Louis, May is married to LeShelle R. May, a software engineer with CNN. They have two grown daughters, Simone and Jordan.

LeShelle May
LeShelle May is a highly accomplished computer engineer recognized for her leadership and innovation in the development of software and web applications.
Read LeShelle May's biography