"Future Forward" is the theme for Chancellor Gary S. May's fall welcome, Monday, Sept. 25, for the campus community and other friends of the university. The celebration will be held from 10 to 11 a.m. in Jackson Hall at the Mondavi Center for the Performing Arts, and a reception will follow in the Corin Courtyard.
Introducing Chancellor Gary May
"As your new chancellor, I am energized by the wealth of extraordinary scholarship, research and public service that I have seen all across our great university during my first weeks here," May said in his emailed "Future Forward" invitation to the community.
Video and Full Transcript of Future Forward
"I am thrilled to lead UC Davis as we accelerate our progress, and I want to share my excitement with you at the very start of the new academic year," Chancellor May said.
Celebrating UC Davis
Alumnus Scott Moak '95 will be the master of ceremonies. He's a Sacramento Kings executive (vice president of community impact and the executive director of the Sacramento Kings Foundation) as well as the public-address announcer for Kings games.
Students Ashley Takeshita '19 and Andrew Cuyegkeng '19 will perform a piano prelude, Carnival of the Animals by Camille Saint-Saëns; and student Nicole Chin '18 will sing the national anthem.
The "Future Forward" program also will include spoken word performances by students, and the presentation of three videos, one welcoming Chancellor May, another providing a brief visual biography of him and the last one titled "Celebrating UC Davis."
The audience also will hear from Chancellor May, who assumed his new role Aug. 1, the seventh chancellor since UC Davis became a general campus of UC in 1959.
"This is a 'Future Forward' gathering because we have so much to look forward to," Chancellor May said. "Creating new opportunities, building new relationships and collectively crafting a new strategic plan for propelling our university to even greater heights.
"I hope to see you there!"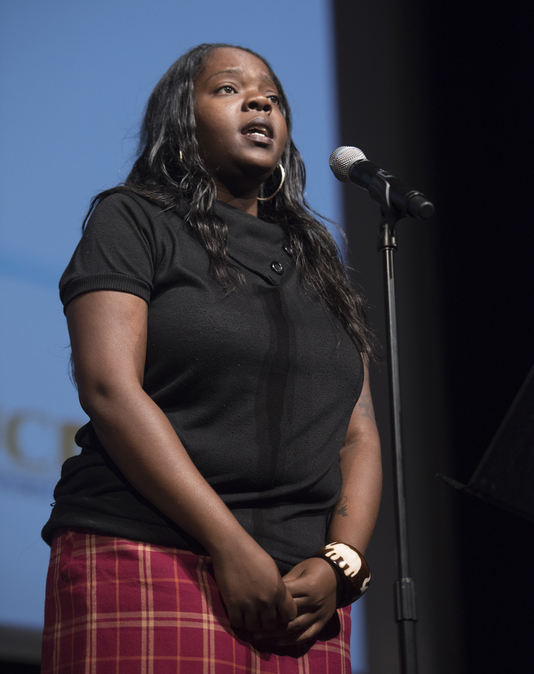 SPOKEN WORD
The student performers are participants in UC Davis' Sacramento Area Youth Speaks, or SAYS.
Ana Cecelia Araujo, sociology major, class of 2019 — Artistic Disability
Freshmen Lynese Andrews, psychology major, and Favio Alcides Lovos, undeclared major/exploratory program — What Do We Expect From a Leader? Each student has 16 lines of dialogue, in a spoken-word form known as griot. 
Denisha "Coco" Bland, African American studies major, class of 2018 — Opportunity