Location
The Alumni Center's Alpha Gamma Rho Hall
Watch Chancellor's Colloquium With Barbara Brandon-Croft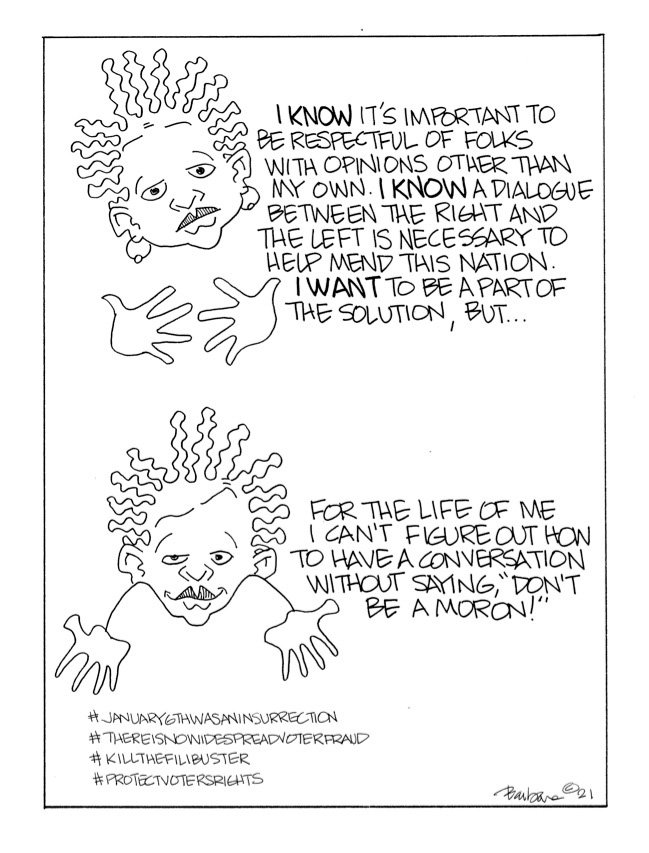 Chancellor Gary S. May makes no secret of his love of superhero comic books, and in two weeks he'll share the stage with a trailblazing creator of a different kind of comic.
Barbara Brandon-Croft, the first Black woman to become a nationally syndicated newspaper cartoonist, will be the next Chancellor's Colloquium guest, Tuesday, May 2.
See At a Glance below for more information, including the link to RSVP (admission is free, but RSVPs are required).
Brandon-Croft is the daughter of nationally syndicated newspaper cartoonist Brumsic Brandon Jr. and spent time as a child helping to apply shading material to his comic strips.
Her own cartoon strip, Where I'm Coming From, was first published in the Detroit Free Press in 1989, and was later syndicated by Universal Press Syndicate, which also distributed Doonesbury, Ziggy, Cathy and more.
Her creation featured a recurring cast of Black women who were drawn in a minimalist style depicting only their heads and hands. They shared laughs on subjects like dating, but also touched on serious topics like ethnic cleansing, racial violence, military scandals and more.
Where I'm Coming From ran until 2005, and Brandon-Croft this year released a collection of strips. The book, which shares the same title as her comic strip, will be available for purchase at the colloquium.
"The magic in Where I'm Coming From is its ability to impress an honest image of Black life without sacrificing Black joy, bolstered by unexpected one-liners eliciting much-needed laughter," publisher Drawn and Quarterly wrote.
"STILL …Racism in America: A Retrospective in Cartoons," an exhibit of cartoons by Brandon-Croft and her father, will be on display at the UC Davis Design Museum from Jan. 23 to April 21 next year.
AT A GLANCE
WHO: Barbara Brandon-Croft
WHAT: Chancellor's Colloquium Distinguished Speaker Series
WHEN:

4:30 p.m. Tuesday, May 2, with reception to follow

WHERE:

Alpha Gamma Rho Hall

, Buehler Alumni Center (or livestream)
Do you want to receive e-mail invitations to future Chancellor's Colloquium Distinguished Speaker Series events?
If yes, complete
this form
. You will receive an e-mail confirming receipt of your request. See you at the next Chancellor's Colloquium!
Event Category
Tags