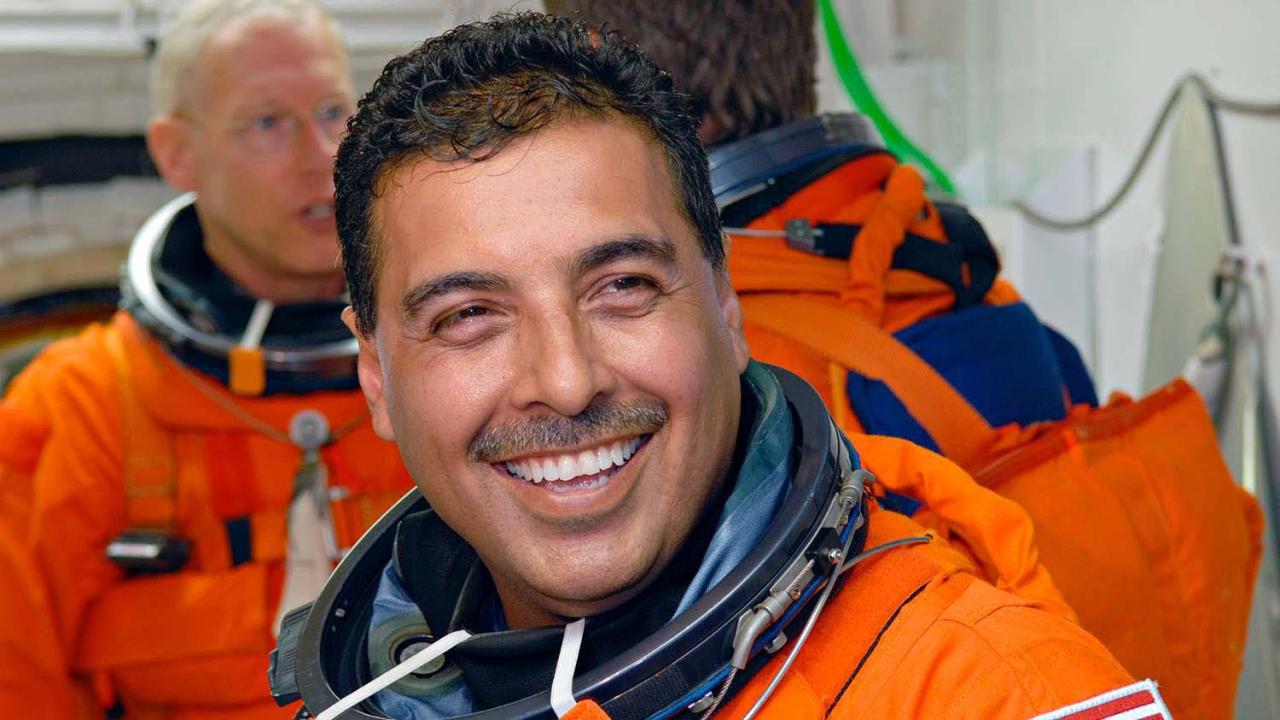 Location
Mondavi Center - Jackson Hall
Watch Chancellor's Colloquium With José Hernández
---
Update Nov. 20: The Chancellor's Colloquium with José Hernández is now sold out.
---
Update Oct. 20: After quickly selling out the Vanderhoef Studio Theatre, the Chancellor's Colloquium with José Hernández has been moved to the Mondavi Center's Jackson Hall.
---
With the release of the film A Million Miles Away last month, millions of people were introduced to José Hernández's decades-long journey from migrant farmworker to astronaut. Now he will tell his story to a UC Davis audience as a guest in next month's Chancellor's Colloquium.
Hernández, who spent nearly two weeks in space in 2009, now serves on the UC Board of Regents. His life story was recently made into a movie starring Michael Peña and Rosa Salazar, and was released on Amazon Prime Video and a limited theatrical run to positive reviews.
His visit to campus Nov. 28 will include a screening of the film and a question-and-answer session with Chancellor Gary S. May. Tickets are free and are available now.
Hernández was born in French Camp, just south of Stockton, and spent much of his childhood tending fields from Southern California to the Central Valley with his parents and three siblings. They would return to Mexico each winter and start the cycle again each spring.
Hernández didn't learn to speak English until he was 12, but knew he wanted to be an astronaut the moment he heard a radio broadcast announcing NASA's first Hispanic astronaut. Hernández, then a senior in high school, was working on a sugar beet farm when he heard the news, according to a provided biography.
He would go on to graduate with a bachelor's degree from the University of the Pacific before earning a master's at UC Santa Barbara.
He spent 16 years at the Lawrence Livermore National Laboratory, and co-developed the first full-field digital mammography imaging system.
"People expect me to say that going to space was my proudest professional moment. It wasn't. It was inventing that mammography device, because it has saved thousands of lives," Hernández said last year.
He joined NASA in 2001 and after 11 rejections, was selected to its astronaut class in 2004. Five years later, he flew to the International Space Station as flight engineer and performed robotic operations aboard the Space Shuttle Discovery, which turned 40 years old this month. He was also the first person to ever Tweet in Spanish from space.
After leaving NASA, Hernández ran unsuccessfully for Congress in 2012. He now serves as president and CEO of Tierra Luna Engineering, an aerospace consulting firm.
AT A GLANCE
WHO: José Hernández
WHAT: Film screening and Q&A for the Chancellor's Colloquium Distinguished Speaker Series
WHEN:

3:30 p.m. Tuesday, Nov. 28 (doors open at 3:15)

WHERE: Mondavi Center - Jackson Hall
TICKETS: Available online.
Do you want to receive e-mail invitations to future Chancellor's Colloquium Distinguished Speaker Series events?
If yes, complete
this form
. You will receive an e-mail confirming receipt of your request. See you at the next Chancellor's Colloquium!
Event Category
Tags