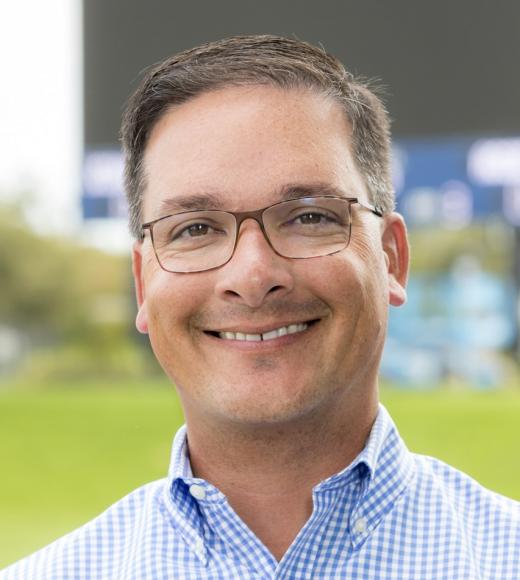 Position Title

Director of Intercollegiate Athletics
Bio
Following a national search, Chancellor Gary S. May selected Rocko DeLuca as UC Davis' Director of Athletics on March 23, 2021. 

DeLuca reports to the chancellor on policy matters pertaining to the National Collegiate Athletic Association (NCAA), and conference matters in the Big West, Big Sky and other applicable conferences. He is responsible for the eligibility and welfare of student-athletes, program operations, fiscal management, marketing, corporate sponsorships, media contracts, and public relations with Intercollegiate Athletics constituents.  

"Rocko has shown tremendous leadership in a range of areas, including ensuring the success of programs like our Student-Athlete Outcomes, and Aggie EVO program," May said. "Most importantly, Rocko puts the academic success of our student-athletes first and prioritizes meaningful relationships with students across campus. He's formed strong relationships with our coaches, students, faculty and staff across both the Davis and Sacramento campuses. I know he'll build on the foundation that Athletics has strengthened in recent years." 

Since he arrived in 2016, Intercollegiate Athletics enjoyed record fundraising levels each year and increased annual giving by 150 percent. Throughout his tenure, capital gifts increased significantly from $2 million in 2016 to $7.2 million in 2020. DeLuca was instrumental in securing private gifts for the Edwards Family Athletics Center, which is slated to open in the summer of 2022. 

Prior to being elevated to his current position, DeLuca joined the department as its Deputy Director of Athletics. In that role, DeLuca oversaw external affairs for the Aggies, which includes communications, development, ticket sales, sponsorships, marketing and event presentations.

Before he arrived to UC Davis, he was the Senior Associate Athletics Director and Executive Director of Development at UMass, serving in several leadership positions, including fundraising, sport program administration and external relations. 
DeLuca has also served as an Assistant Athletics Director for Development and Major Gifts at Colorado and a Premium Seating Executive for the Denver Broncos. 
DeLuca earned his undergraduate degree in kinesiology from Colorado in 1999 and his master's degree in sports administration from Northern Colorado in 2001. He and his wife Kristin have a daughter, Siena. 
Tags