CHANCELL-ING: A Tenacious Start to 2022
Happy New Year! I hope you all had a chance to reconnect and refresh over the holidays with your loved ones. LeShelle and I cherished time with our family, and those memories are more special than ever.
Though we hoped 2022 would start differently, it's clear the pandemic is still a threat. The rise of the omicron variant and a surge in COVID-19 cases brings an all too familiar wave of anxiety and uncertainty.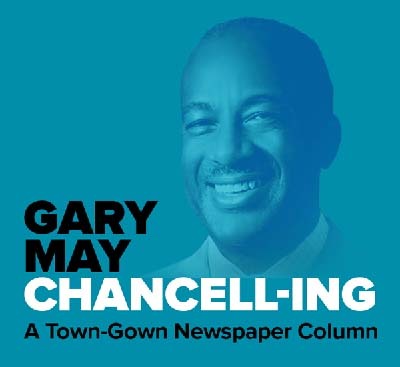 Still, I know that our community will stand strong in the face of historic global challenges. We will continue to move forward with the compassion, cooperation and commitment to public health that Davis is known for.
We'll remain just as vigilant as the new year unfolds. We are requiring COVID booster shots by the end of January for all eligible students, faculty and staff. Be reassured that we are monitoring our campus testing results, including our genotyping results, along with those from Davis and the rest of Yolo County. We are in regular contact with the county's public health officer to ensure compliance with changing guidelines and to keep our community as healthy as possible.
Despite the complications caused by COVID-19 and other national and global issues, I remain an optimist. I am immensely proud of how well we have managed the pandemic so far due to our Healthy Davis Together partnership and the fortitude of the UC Davis Genome Center.
Looking up, looking ahead
In the good news department, the year 2021 ended on a high note for UC Davis. GreenMetric World University Ranking placed us as the No. 1 university in the nation and fifth in the world for sustainability, the sixth year in a row we've held that ranking. That was one of many accolades UC Davis received for both our Davis and Sacramento campuses last year.
We have a lot to look forward to in 2022, and I'll hope you'll join us in watching, listening or participating in these activities.
In February, I'll host the next Chancellor's Colloquium, a speaker's series where I sit down with a person who has influenced society and contributed to the American experience in a dynamic way. During fall quarter, I talked with San Francisco Mayor London Breed, a proud UC Davis alumna. We'll have more information soon about dates and my upcoming guests. 
You can also look for new episodes of my video interview series called Face to Face with Chancellor May, where I interview students, faculty and staff who are making a difference in our community and beyond.
Signature events making a comeback
Traditional, in-person Aggie events that we know and love are expected to return this spring, and we are committed to following Yolo County public health guidelines to make sure these events are safe to hold.
Picnic Day, one of the largest student-run, family events held in the country, is expected to return on April 23. We'll get to see the Doxie Derby up close, hear the marching bands battle, engage with our animals, and interact with our many departments that will showcase their finest work.
The same goes for the Whole Earth Festival, which is scheduled for May 6-8 with its live entertainment, activism and focus on environmental sustainability.
We also anticipate a return to our in-person commencement activities in May and June, to celebrate the Class of 2022. As part of those activities, we'll be holding our commencement ceremonies at UC Davis Health Stadium for the first time.
Once more, I wish you a new year of good health and continued good community partnership. Better days are just ahead.
Tags