Just me and my shadow
His name is Richard Phouasalith, a fourth-year biomedical engineering student. But last week, I knew him as my "shadow."
Richard was by my side during a busy day of meetings with fellow campus leaders. He also sat-in during my interview with a local reporter about the Aggie Square initiative, and attended a luncheon with graduate and professional student leaders to discuss issues of concern to them.
The goal was to give Richard a peek into the world of campus leadership and hopefully provide some inspiration as well. So, we rounded out this day of shadowing me by attending Provost Ralph Hexter's Leadership Council.
In April, we kicked off the UC Davis Leadership Job Shadow Program to help students like Richard build meaningful connections with campus leaders. Students get a chance to look under the hood of UC Davis and better understand what it takes to run a university. In turn, we get to hear directly from the students about what's on their minds and where they hope to land in life.
For me, the spirit of job shadowing goes even deeper, to the importance of role models and mentorship in cultivating the next generations of leaders and game-changers. UC Davis is a place that not only educates students, but also empowers them to be leaders and to do some good in the world.
One of my go-to quotes on the power of mentorship comes from the former U.S. Surgeon General Dr. Joycelyn Elders, who once said, "You can't be what you can't see." So, we've been showing these students what leadership on campus looks like and giving them a seat at important meetings as we work to build the best UC Davis possible.
The program is open to all undergraduates and graduate students, and about 130 of them applied to participate in our first round of leader shadowing this spring and summer. Those who made a very tough cut have the chance to spend a day with members of UC Davis' leadership team, including Provost Ralph Hexter, the athletics director Kevin Blue and Emily Galindo, interim vice chancellor for student affairs.
These student "shadows" major in different fields but all aspire to be movers and shakers in their future careers. Richard, for example, is definitely going places in life. He's headed to the Silicon Valley in July to work for Roche, the parent company of Genentech, as a quality control engineer for their genome sequencing unit.
They're an overall impressive group of "shadows," full of poise, great questions and the hustle to build career networks well before they don the cap and gown.
One of my student assistants, Gopika Mavalankar, had a shadowing assignment that came with added star power. She's a Fulbright Scholar who's moving to Madrid next year to be an English teaching assistant. She was paired with Karl Engelbach, my chief of staff. While I'm sure it was informative for Gopika to attend an audit management meeting, the better perk came later in the day when she met GZA, the popular rapper from the Wu-Tang Clan. He was backstage at the Mondavi Center for Performing Arts for a Chancellor's Colloquium on the intersection of hip-hop and science.
I'm glad to say this job shadowing program will continue next academic year. The early reviews from students are encouraging. They've appreciated the career advice, the new collection of business cards and the front-row views of campus leadership in action.
I encourage our leaders in Davis to cast spots for their own "shadows." The best way to honor those who helped you become successful is to help others become successful like you.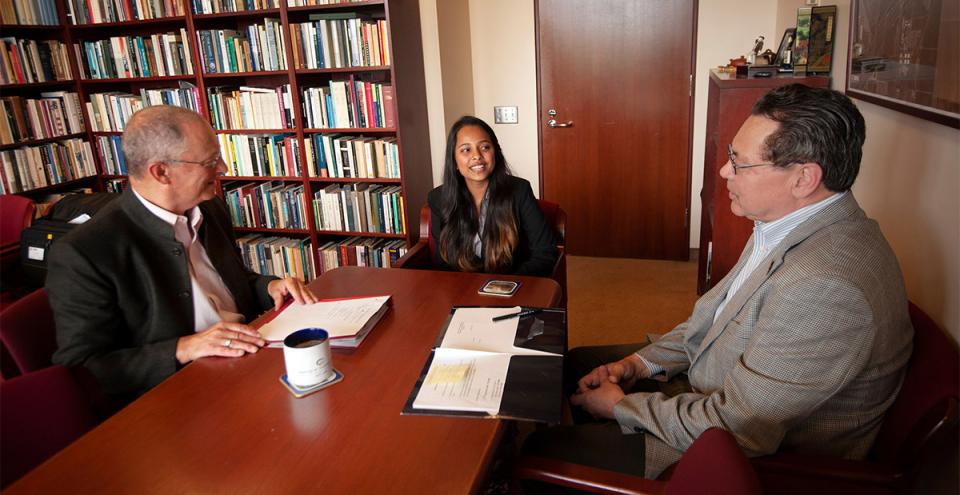 Students Reflect on Job Shadow Experiences
Campus leaders recently opened their doors extra wide as they invited students to come along as they went about their days.
Tags