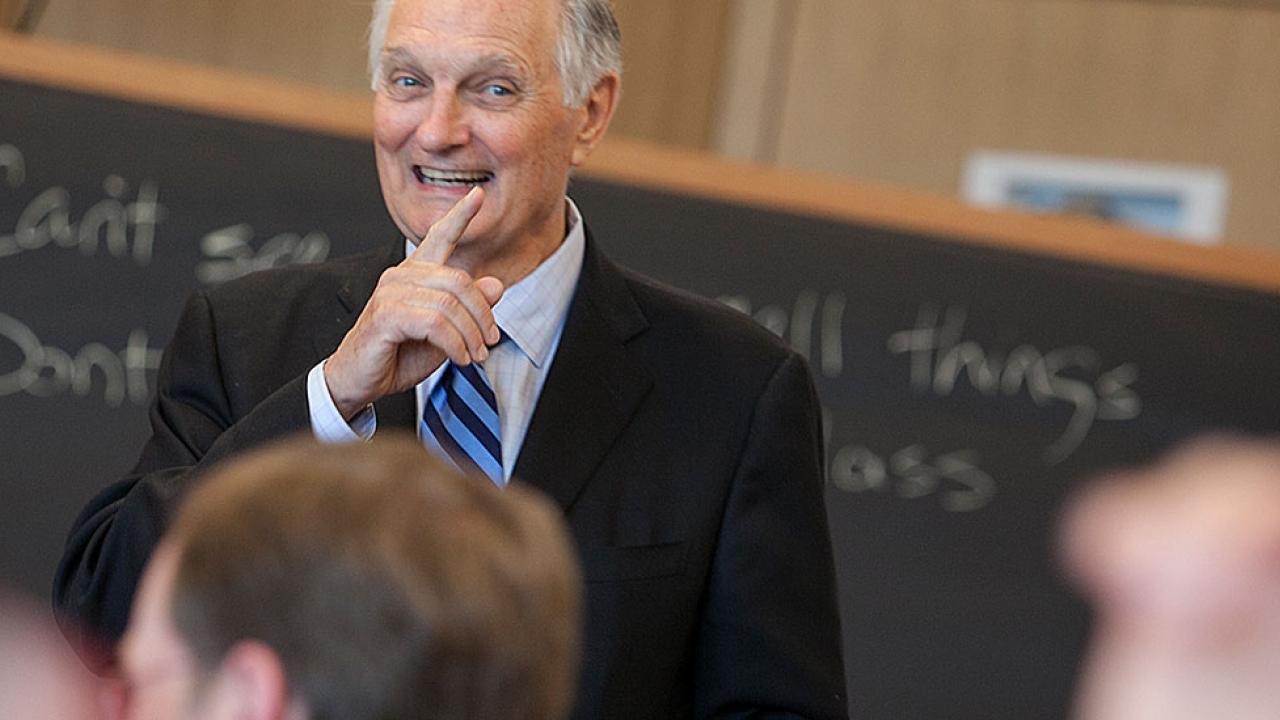 Gary S. May hosts his first Chancellor's Colloquium on Wednesday, Jan. 31 — an evening talk by Alan Alda, who has a mission of helping scientists make their research clear to the public. He will give his address, "Getting Beyond a Blind Date with Science," at 6:30 p.m. in Jackson Hall at the Mondavi Center for the Performing Arts.
Note: UC Davis announced this event Dec. 12, and the venue filled quickly. The Mondavi Center says interested people should start lining up at 5 p.m. the day of Alda's talk, and, if any tickets are returned, the Mondavi Center will give them out on a first-come, first-serve basis.
Alda is the movie and television star (including the TV series MASH and The West Wing) whose lifelong interest in science led to his hosting Scientific American Frontiers on PBS from 1993 to 2005. He is a founding board member of the Alan Alda Center for Communicating Science (at Stony Brook University, New York), and the founder and chief executive officer of Alda Communication Training.
Now the actor-turned-science communicator is coming to UC Davis, one of the country's leading research universities, overflowing with faculty and researchers who have stories to tell — and with a chancellor who wants people all over the world to hear those stories. 
Besides his "Getting Beyond a Blind Date with Science" talk for the public, Alda will participate in invite-only workshops for faculty members and others.
Alda speaks from his own experience on PBS and from the research that comes from the Alda Center for Communicating Science, where faculty members specialize in science, technology, engineering, math, medicine, journalism, communications, public policy and theater. This multidisciplinary approach forms the basis for training programs that tap into scientists' innate passion for their work, so that it comes alive naturally.
"Alan Alda has devoted much of his career to teaching scientists and engineers to be better communicators for the public good," Chancellor May said. "Our community has a unique opportunity to learn how to translate complex ideas into relatable and compelling stories through Alan's acclaimed methods. Our research is worth sharing, and we want people everywhere to know about it."
---
Now in its eighth year, the UC Davis Chancellor's Colloquium Distinguished Speakers Series has previously hosted scientists and artists, university leaders and others in academia, for public discussions of higher education, research and trending topics of the day.
Event Category
Tags