Checking In With Chancellor May: A Reason to Cheer
To the UC Davis Community:
Spring is in the air, as well as in my step, with the forthcoming updates on campus gatherings. This gives me hope that faculty, staff and students may be able to once again enjoy our beautiful campus in-person by fall.
A week ago, April 2, the state of California updated its Blueprint for a Safer Economy, including new guidance that will go into effect next Thursday, April 15. As infection rates decline and UC Davis begins the process of resuming in-person activities, a campus committee is working on developing new guidance for on-campus events (meetings, trainings, small conferences, etc.) that aligns with the updated blueprint and the detailed state guidelines that we expect next week. In the meantime, we have updated our guidance for social gatherings to align with the state's framework, which applies to all off-campus student activity.
Speaking of campus gatherings, I got to see, in person, our Aggie football game against Eastern Washington University at UC Davis Health Stadium last Saturday. While the Aggies could not defeat the Eagles, I was thrilled to be there to cheer on our student-athletes. Aggie fans can also attend baseball and lacrosse games, and men's and women's tennis matches, with other sports allowing limited attendance. I hope you will come out to cheer on our teams!
Among gatherings, I know commencement is top of mind for many. We are nearing decisions about commencement and will have an announcement in next Friday's letter.
Vaccines and testing
Some good news for people eager to get their vaccines: This week, UC Davis Health expanded eligibility for COVID-19 vaccination appointments for anyone 16 and older. Unsurprisingly, UC Davis Health received an overwhelming response to its expanded eligibility, but appointments are opening up as vaccine supplies are replenished, so please be persistent and patient. Appointments for UC Davis Health patients and nonpatients can be scheduled online, or by calling 916-703-5555. Also, take a look at the Campus Ready page for additional vaccine appointment options.
In more good news, COVID-19 testing is now available for UC Davis family members at UC Davis Health locations around Sacramento, including in Folsom, Roseville and Elk Grove. The free testing program helps keep all of us all healthy, and I encourage everyone to get in the habit of scheduling regular, asymptomatic COVID-19 tests by finding the place that's easiest for you.
I'm also proud that UC Davis has continued working with Healthy Davis Together, and our efforts are bringing solutions to campus and to the wider region. Yesterday, UC Davis LIVE brought together John Bowes, superintendent of the Davis Joint Unified School District, and David Coil, UC Davis Genome Center research scientist, to help answer the question of how Davis schoolchildren can safely be back in their classrooms (they return on Monday, April 12). Coil has been instrumental in UC Davis' COVID-19 testing, leading the environmental sampling efforts.
Our undocumented community
With the transition to a new presidential administration and proposed immigration reforms, we have received inquiries and concerns regarding the advocacy and support resources that will be available to the undocumented community long term. Today, the Division of Student Affairs and the Office of Diversity, Equity and Inclusion released a statement affirming UC Davis' commitment to supporting the efforts of the AB540 and Undocumented Student Center and the UC Immigrant Legal Services Center.
New partners
I'm excited to share the news that a new partnership with the University Credit Union will bring funding opportunities for undergraduates and graduate students, as well as financial literacy programs on campus. On July 1, The Pavilion will become University Credit Union Center. This 10-year partnership agreement also will improve the home of Aggie teams including men's and women's basketball, volleyball and gymnastics.
Another partnership became stronger this week as the Sacramento City Council voted to approve the next steps for Aggie Square, the planned innovation hub that will be built on our Sacramento campus. With the passing of a Community Benefits Partnership Agreement, this project has become a model of what universities, cities and developers can and should do for the regions they serve.
Spring brings with it new growth, and hope for the future. I look forward to the ways in which our campus community continues to grow, not only through partnerships, but also through the strength and commitment of each and every one of you.
Sincerely,
Gary S. May
Chancellor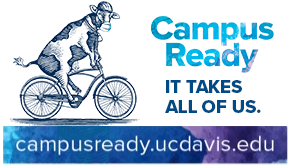 Primary Category
Tags