Checking In With Chancellor May: Spring!
To the UC Davis Community:
Spring is here! And, unlike last year, we see many rays of hope locally. Yolo County eased its COVID-19 restrictions when it advanced to the orange tier of the state's reopening plan last week, and Sacramento County moved up to the red tier at midmonth.
UC Davis is contributing in myriad ways, on and off our campuses. In Davis, credit goes to our students, staff and faculty who are following protocols to help prevent the spread of the coronavirus, and to Healthy Davis Together, our city-campus partnership. Our exemplary UC Davis Health team is caring for COVID-19 patients and administering vaccinations in underserved communities. I am so proud of our university.
César Chávez

Day
We ended last week by observing our César Chávez holiday, and we celebrate the actual César Chávez Day this Wednesday (March 30), marking the birthday of the late labor and civil rights activist who, with Dolores Huerta, founded the United Farm Workers union. Their service inspires generations of Californians who are working to make America a more just and equitable nation.
The UFW was nonviolent, staging boycotts and marches, to raise awareness for the plight of farmworkers, many of them from Mexican and Filipino backgrounds. Huerta served as the union's principal legislative advocate, while Chávez gained notoriety for his hunger strikes. The UFW successfully advocated for a ban on the use of the short-handled hoe, a backbreaker of a tool, in California fields, while also delivering better wages, access to clean water and mandated breaks, among other improvements.
I am proud that UC Davis has honored Chávez for many years with our César Chávez Youth Leadership Conference, which annually draws upwards of 2,000 middle school, high school and community college students for a transformative day of education and career guidance. The conference has been on hiatus due to the pandemic, but we look forward to its return, allowing us finally to celebrate the conference's 20th anniversary.
In the meantime, I hope you think of Chávez's enduring contributions to civil rights on Wednesday and beyond. And Huerta, too, who at age 90, as the founder and president of the Dolores Huerta Foundation, continues to advocate for the working poor, women and children.
Getting our exercise
We have already announced April 19 as the ARC's reopening date, and now, with Yolo County in the orange tier, we can operate the facility at 25 percent capacity (instead of 10 percent in the red tier). I am happy for our students who will be the first ones back, and for our staff and faculty whom the ARC plans to welcome back May 1.
It's also exciting to see our athletes return to competition, including two wins in football at UC Davis Health Stadium the last two weeks. Neither game was open to spectators — but that changes for our last home game, this Saturday (April 3), when a limited number of fans can attend (including students, who will be admitted free). Other spring sports will follow in allowing fans, all in accordance with public health guidelines. Stay tuned to UCDavisAggies.com for more information.
Despite being unable to play for two months due to the county's COVID-19 restrictions, our women's basketball team won the Big West championship for the fifth year in a row and the conference tournament for the second year in a row, advancing to the NCAAs. Our football team won its first home game of the season, setting a record for scoring with an incredible 73-24 win over Cal Poly in the Big Sky Conference. The Aggies topped that Saturday with a 31-27 win over Idaho State in a last-second thriller. Even during a pandemic, UC Davis shines bright in athletics.
On a related note, I am happy to report that after a nationwide search, I selected Rocko DeLuca to be our athletics director. He's been with UC Davis since 2016 and I know he will continue the upward trajectory of our athletics program.
Vaccination updates
Eligibility for COVID-19 vaccines is expanding at a fast pace in California, where, starting this Thursday (April 1), all residents 50 and older can get their shots. Then, April 15, eligibility will expand to everyone 16 and up. Our Davis campus vaccine clinic is part of the state's network of clinics, for which the state is handling all appointments through its My Turn website. Select the time and place that work best for you — it may be the Davis campus vaccine clinic or another location. Please get your vaccination wherever you can.
UC Davis students and employees: Once you have been vaccinated, we would like to know. Vaccine status is critical to public health mitigation measures and best practices for the pandemic — for example, at our own university, knowing the vaccination status of our community will play an increasingly important part in our decision-making as we head toward fall and a return to in-person instruction.
Please note: Submitting this information is not a requirement at this time; however, based on UC's interim COVID-19 vaccination policy, we expect that employees and students who have been vaccinated will need to provide this information in the future. You can enter it now through the Health-e-Messaging portal. Click on "Medical Clearances" to start the process of providing your vaccination date(s) and vaccine manufacturer name, and be prepared to upload a copy of your COVID-19 Vaccination Record Card (by clicking on "Form Upload").
Other updates
Gatherings —

Despite Yolo County's move into the orange tier, the university continues to prohibit events or gatherings on our campuses or in our facilities, with the exception of events/gatherings that are supported by related industry guidance aligned with our mission or in support of public health. Elsewhere, outdoor gatherings are permitted and indoor gatherings are strongly discouraged. Please see our

Campus Status and Operations webpage

for restrictions.

Travel —

In an update to its

COVID-19 Travel Announcement webpage

, Global Affairs maintained its prohibition on nonessential international travel and outlined the review and approval process for essential travel. In addition, "UC Davis is reminding all members of the campus community to avoid all nonessential travel (including domestic travel). Employees and students who are planning on traveling out of state should plan to self-quarantine for 10 days upon returning, per the state guidelines."
On the Quad, virtually
There's nothing like spring on the Davis campus, but, unfortunately, we must go without the quarter's outdoor activities for the second year in a row. All is not lost, though, because we still have Picnic Day, Saturday, April 17, and the Whole Earth Festival, Saturday, May 8. Yes, both will be virtual for the second year in a row, but what better way to feel like you're on the Quad, enjoying another sunny day?
We will hold our fifth annual UC Davis Give Day, Friday-Saturday, April 16-17. A year ago, a month into the pandemic, our campus community, alumni and other supporters showed incredible generosity, contributing a record amount. I look forward to continuing this trend.
This quarter we are offering about 100 in-person courses, more than double the fall number. And we are looking forward to a gradual return to in-person events as public health guidance allows. That may include options for spring graduation; we plan to have more information in early April, so stay tuned!
Follow the protocols
While things are definitely looking up, we still have protocols to follow: face coverings, physical distancing, hand-washing, Daily Symptom Survey and regular asymptomatic testing, even after vaccination. We've gotten this far, let's go all the way.
P.S. I didn't send a letter last Friday (which was a holiday), deciding instead to send it today, the first day of spring quarter. I will send my next letter Friday, April 9.
Sincerely,
Gary S. May
Chancellor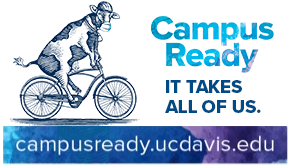 Primary Category
Tags