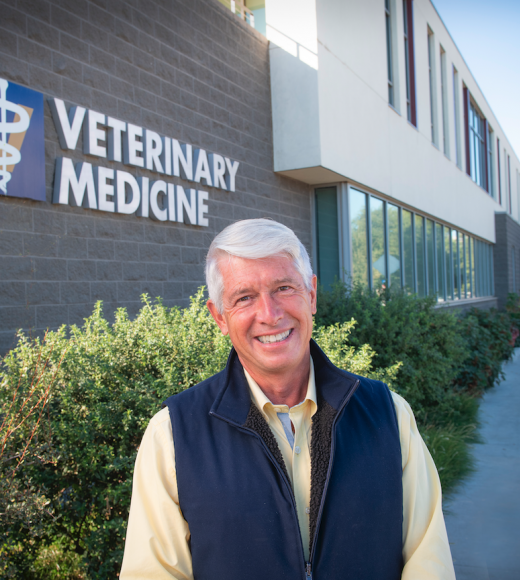 Position Title

Dean, School of Veterinary Medicine
Bio
Dr. Mark Stetter earned both his B.S. in biochemistry and his DVM from the University of Illinois at Urbana-Champaign. Dr. Stetter comes to his new position at UC Davis with extensive and varied experience, and distinguished accomplishments, both in veterinary medicine and leadership. His areas of research and treatment expertise are diverse within his primary emphasis on wildlife and zoo animals.
He served as director of animal operations, director of animal health, and clinical veterinarian at Walt Disney World for 15 years where he provided oversight and leadership to the animal care and animal health teams at Walt Disney World and was responsible for more than 500 employees and multiple animal collections— including Disney's Animal Kingdom Theme Park, The Living Seas at EPCOT, Tri-Circle D Ranch, and the Animal Kingdom Lodge. During this time, Dr. Stetter also helped Disney establish and grow their international in-situ conservation efforts.
Dr. Stetter then spent a decade as dean and professor in the College of Veterinary Medicine and Biomedical Sciences at Colorado State University. He helped drive the creation of a new medical education program in partnership with the University of Colorado School of Medicine; worked with the provost's office to create a university-wide One Health Initiative; established a new DVM education program with the University of Alaska-Fairbanks; and helped launch numerous Diversity, Equity and Inclusion (DEI) initiatives. In addition, he was instrumental in the college raising over $370 million for new buildings, student scholarships, endowed positions, and research programs, among other uses.
Dr. Stetter's research interests have included advancing minimally invasive surgery in non-domestic species and have included work on a variety of different animals including fish, reptiles, birds, and mammals. 
His work has resulted in over a hundred scientific publications and conference presentations. His writings have often focused on diseases and treatments pertaining to elephants, crocodiles, gorillas, frogs, monkeys, rhinoceroses, and many other species. 
As dean of the world-renowned UC Davis School of Veterinary Medicine, Dr. Stetter will have responsibility not only for education and research, but also for strategic planning, management and administration, external affairs, and outreach and development, among other core functions. 
The school is ranked number one among veterinary schools nationally by both US News & World Report and QS World University Rankings, and number two in the world by QS. It is currently in a campaign to fundraise $500 million for a new Veterinary Medical Center.
Tags