Campus Community Book Project Featuring Janet Mock
Remark as prepared for the 2018 Campus Community Book Project Dinner
For 16 years, the Book Project has done well in promoting dialogue between diverse members of our university community and our neighboring communities. The project builds community by reading and thoughtfully discussing the same book.  Participants share knowledge and inspiration,  and they build friendships. We started the Book Project to promote unity in the aftermath of the 9/11 terrorist attacks.  Having students, faculty, staff, and our neighboring residents focus on the same book at the same time seemed to be an interesting and fun way to achieve a shared experience––and to acknowledge that we can express different opinions and still be respectful of one another.
In this way, the Book Project supports UC Davis' Principles of Community.  These principles serve to affirm the inherent dignity in all of us––and foster a mutual respect that keeps our campus community healthy and strong. In the tradition of our Book Projects, this year's program highlights some of the exciting works of our UC Davis faculty, staff, students, and community organizations.  We feature them in multiple ways, from public lectures and panel discussions, to films, book clubs and art exhibits. At UC Davis, we recognize that the well-being of the campus and the Davis community are strongly linked … and that we have a shared responsibility to promote a united community that acknowledges and celebrates our differences.
For the 2017-2018 featured title, the Book Project Selection Committee wanted to choose a text that would appeal across audiences of different generations, disciplines and cultures.  It was also important that the book encouraged conversations about important topics that address our shared experiences and inform our collective consciousness.
As with previous selections, Janet Mock's book speaks to the human condition. "Redefining Realness" inspires us to explore and better understand ethnicities, cultures and gender identities different than our own. "Redefining Realness" is a wonderful choice for this year's Book Project because it embodies so much of what we value here at UC Davis.  It celebrates diversity in how we think, how we speak, how we dress, what we eat, and where we come from. Understanding the experiences and aspirations of others lies at the very heart of the Book Project, and that's essential to the making of  an inclusive campus community and the fulfillment of UC Davis' mission as a public university.
Thanks to all of you here tonight for your support and participation in this year's Campus Community Book Project.
And now, I have the great pleasure of introducing the author of this year's featured book, "Redefining Realness: My Path to Womanhood, Identity, Love & So Much More." Janet Mock is a feminist who tackles social stigmas through storytelling. She broke ground in 2014 with the release of "Redefining Realness," the first memoir written from the perspective of a young transgender person.  The book quickly made The New York Times' best-seller list and established Janet as an inspirational voice for the transgender community — and anyone fighting to define themselves on their own terms. "Redefining Realness" is profound and courageously honest.  Janet tells her story of growing up poor, multiracial and "trans" in America. She exposes the brutal challenges and vulnerabilities of a much-marginalized and misunderstood population.  At the same time, she offers a powerful vision of possibility and self-realization.
The author Barbara Smith calls "Redefining Realness" a classic American autobiography.  "Like Richard Wright and Maya Angelou," she writes, "Janet Mock brings us into a world we may not know and with breathtaking insight, courage, and masterful craft makes her story universal."
Janet's second memoir, "Surpassing Certainty," is no less inspiring. She relates the years in her life when she was not public about being transgender.  Kirkus Reviews praised the book as a "defining chronicle of strength and spirit … brimming with liberated self-discovery." Some of you may also know Janet as the host of the podcast series "Never Before," and a contributing editor and columnist for Allure magazine. Janet was also a featured speaker at last year's historic Women's March on Washington, where she called for a more inclusive women's movement––one that invites and embraces transgender women, undocumented people and those with disabilities. 
Janet is a native of Honolulu who earned a master's degree in journalism from New York University.  She launched her career as an online editor for People magazine and transitioned to writing cover stories for Marie Claire, Interview and The Advocate.  As an essayist, her work has been featured in The New Yorker, The New York Times and Lenny. Oprah Winfrey has called Janet a "fearless new voice" and "trailblazing leader" who changed her way of thinking.
Not to outdo Oprah, but I'm calling Janet the "Magnificent Mentor of   Self-discovery." She pushes us all towards a greater acceptance of one another — and to be real and unapologetic about ourselves.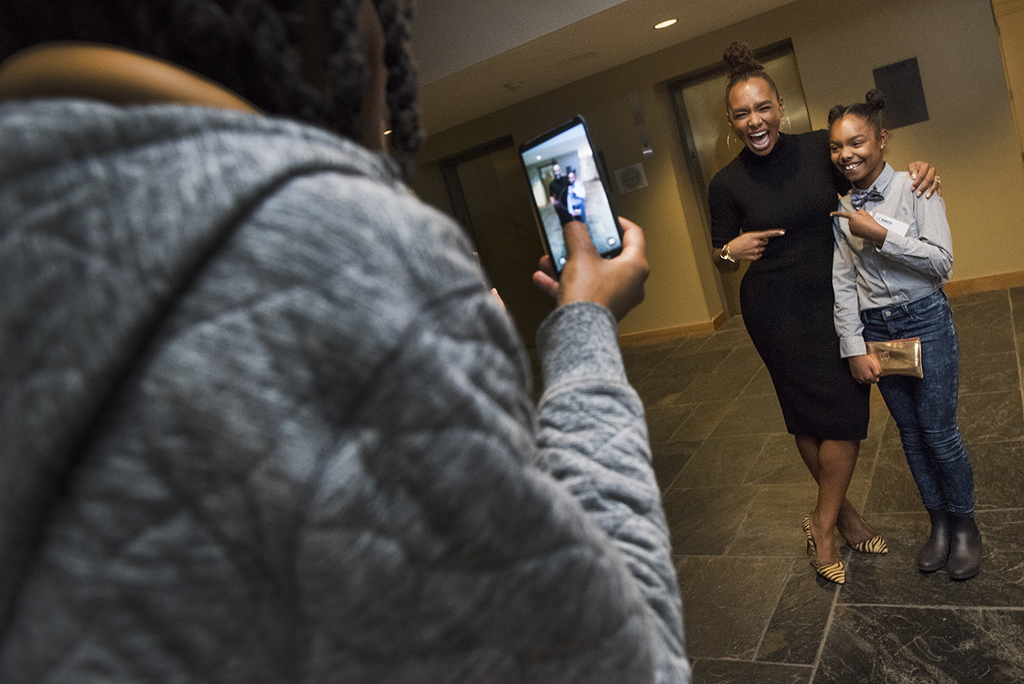 2017-18 Book Project Explores Identity
Janet Mock Shares Her Experiences Growing Up Multiracial and Transgender in America
Primary Category
Tags