Checking In With Chancellor May: Home Sweet Homecoming
To the UC Davis Community:
With fall quarter well underway, the Davis campus is the liveliest it's been in two years. Our Fall Welcome football game set a UC Davis attendance record with a crowd of 14,000. Our classrooms and lecture halls are filled, bike traffic is bustling and we've got Homecoming this weekend!
We are also celebrating a historic gift, announced yesterday (Oct. 13): Lynda and Stewart Resnick's pledge of $50 million to establish the Lynda and Stewart Resnick Center for Agricultural Innovation in the College of Agricultural and Environmental Sciences — the largest sum we have ever received from individual donors.
We look forward to seeing our students, faculty and staff thrive in the new center, to be built on campus, with classrooms and labs, and career and advising services. The gift also includes $10 million for the Resnick Agricultural Innovation Research Fund, which will award competitive grants annually.
With this remarkable gift, we will grow our research capabilities in sustainable food production, to have greater impact at the state, national and global levels.
At the same time, we have launched a new faculty hiring initiative to enhance our diverse perspectives. Our initial goal is to recruit 100 faculty members who will bring transdisciplinary approaches to solving such "wicked problems" as climate change and emerging health threats.
This is what we do best at UC Davis. We are creating a better and more equitable tomorrow by bringing together the widest variety of perspectives and backgrounds.
In the same vein, we speak out against injustice and intolerance, for example, in our recent statement about the unrest in Iran, in which we reaffirmed our commitment to upholding fundamental human rights, and in my statement yesterday about rising displays of antisemitism.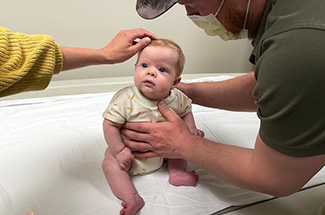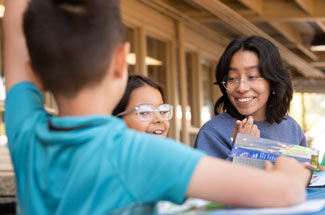 Flu shots
As the fall quarter moves along, we will reach the height of the flu season. Similar to last year, the University of California is requiring all employees and students to get vaccinated against influenza or formally opt out by completing a declination form in Health-e-Messaging. The deadline to either upload your flu vaccine information or submit the form is December 1.
Please visit the Flu Vaccination Information page on the Campus Ready website for detailed instructions on how to comply with this mandate.
Students can receive flu shots through Student Health and Counseling Services, by arranging appointments in Health-e-Messaging. Flu shots are completely covered for students on the UC Student Health Insurance Plan, or SHIP, and are available at a nominal fee for all registered students.
Employees can receive flu shots from their health care providers and from many pharmacies. Also note: the Staff and Faculty Health and Well-Being Program has organized a series of flu vaccination clinics on the Davis campus, where employees are being given shots on a first-come, first-served basis (supply is limited). One clinic has already been held and two more are scheduled:
Wednesday, Oct. 19 —

10 a.m-2 p.m., 1041 

Valley Hall

Health Sciences District.

Thursday, Oct. 27 —

9 a.m.-1 p.m.,

Cowell Building

lobby
Flu vaccine clinics are being held in Yolo County through mid-November and in Sacramento County through November 30.
COVID-19 updates
In consultation with public health experts and updated guidance from the Centers for Disease Control and Prevention, the Davis campus's COVID-19 asymptomatic, saliva-based testing center will close December 15, at the end of the fall quarter. To help with the transition, the university will support free, antigen-based testing for students and employees beginning winter quarter, with details still to be announced.
Our saliva testing program was a game changer for our campus and Yolo County. Since the fall of 2020, the UC Davis Genome Center has run nearly 2.2 million tests, of which about 1.3 million were from UC Davis, including UC Davis Health. Of those 1.3 million tests, we detected almost 9,000 positives, allowing us to alert people so they could take steps to keep from infecting others.
Today, with Yolo County's COVID-19 Community Level at "low," as measured by the CDC, now is the right time to pivot to antigen testing. We will continue to monitor changes in public health guidance and hold open the potential to restart our saliva- based testing. However, we've learned through fall reopening that we can easily distribute antigen test kits when needed at a more sustainable cost to the university.
As always, we will continue to listen to our public health experts and monitor conditions in our community, including wastewater. Last winter's omicron variant provided an unforgettable example of what this disease can do. So, I've charged a small group of leaders and experts to continue next step planning for what the future of testing response might look like, led by Jonna Mazet, our vice provost for Grand Challenges and a distinguished professor of epidemiology and disease ecology in our School of Veterinary Medicine.
Working in concert with the city of Davis and Yolo County, UC Davis prevented COVID-19 infections on campus and in the community, which Politico wrote about last month. While the pandemic is not over, we're in a far better place than we were in 2020, with strong tools to fight COVID-19 — like vaccines and updated boosters and treatments — that can help reduce the risk and severity of COVID-19 to ourselves and others.
I'm extremely proud of what we've accomplished at UC Davis to create a healthier campus and safer Davis community. While the pandemic is not over, we're in a far better place than we were in 2020, with strong tools to fight COVID-19 — like vaccines and updated boosters and treatments — that can help reduce the risk and severity of COVID-19 to ourselves and others.
Please remember that UC Vaccine Policy requires all students and staff to get the bivalent booster. While booster availability was initially a concern, that is no longer the case. Our COVID-19 Dashboard shows booster compliance of about 20% for the Davis campus and we see that figure trending up. Students will find boosters are readily available at Student Health and Counseling Services, and staff and faculty can find the shots at many pharmacies. I encourage everyone to get boosted today.
In the meantime, we continue to recommend that people wear masks indoors as this has been proven to reduce individual risk. Thank you for doing all you can to keep yourself and others safe.
Get out the vote
The midterm election is set for Tuesday, November 8, and I urge you to vote. We've made it especially convenient to do so on the Davis campus. A ballot drop-off box is located outside of Hunt Hall, just across from the Memorial Union bus terminal. It's open now through 8 p.m. Election Day.
You have until Oct. 24 to register to vote. You'll find a registration link at UC Votes, along with nonpartisan information on the voting process and ballot issues where you live.
Here on campus, we have our Aggies Vote website ... and, when we say "Aggies Vote," we mean it: Seventy-six percent of our students voted in the 2020 general election, a commendable turnout, indeed, earning the student body a Best of Class Campus Award and gold seal in the ALL IN Campus Democracy Challenge, which included nearly 300 institutions as participants.
The UC dashboard on student voter participation shows the Davis campus with the greatest improvement among all the campuses in voter turnout from 2016 to 2020, up 33 percentage points.
Keep it going, Aggies! Make your voices heard.
Chancellor's Colloquium
This quarter's edition of the Chancellor's Colloquium is set for Thursday, November 3, in person, and you won't want to miss it, especially if you love music and film.
My guest will be Joseph "Jazzbo" Patel, a UC Davis alum, class of '94. Back then, he was the music director of campus radio station KDVS and part of the Solesides/Quannum crew. This artistic collective of UC Davis rappers and writers became internationally acclaimed through such members as DJ Shadow, Lyrics Born and the hip-hop duo Blackalicious.
Now, it's Patel who's in the spotlight. This spring he won both a Grammy Award and an Oscar for his role as a producer of the music documentary Summer of Soul. Directed by Ahmir "Questlove" Thompson from The Roots, the film chronicles the 1969 Harlem Cultural Festival with rare footage of such musical icons as Stevie Wonder, Nina Simone and Mahalia Jackson.
At the Chancellor's Colloquium, to be held in the Mondavi Center's Vanderhoef Studio Theatre, I'll interview Patel about his time at UC Davis and the road he has taken to an illustrious career in film, journalism and digital media.
We've set up an event page where you can read more about Patel and the film, watch the trailer — and register to attend the colloquium (free).
Engage with campus
Now is a perfect time to take advantage of all the events and activities that UC Davis has to offer. Our campus is buzzing with activity, and I hope you take the opportunity to connect with the community like never before.
Students should mark their calendars for Oct. 28, the date of Sunset Fest 2022. This festive event will be held on the Quad, with live music, student performances and giveaways right as the sun starts going down.
And, of course, we're in the midst of Aggie Spirit Week, leading up to the Homecoming football game Saturday (Oct. 15) against Northern Arizona (kickoff 4 p.m.). This game will include our first "Running of the Alumni" and is guaranteed to be a good time.
The Saturday schedule also includes open houses at the Bohart Museum of Entomology ("Insects, Art and Culture") and the California Raptor Center (celebrating its 50th anniversary). Tours of the Activities and Recreation Center will be held noon to 2 p.m. Saturday.
Finally, we're wrapping up Hispanic Heritage Month celebrations with a wonderful event on Saturday. SOL y LUNA, a program that supports our Chicanx/Latinx community, will showcase music and cultural celebrations from 6 to 8 p.m. at Putah Creek Lodge. Click here to RSVP. Come on down to connect with others and learn more about campus organizations that support our diverse student body.
This is UC Davis at its best, a place of opportunity, adventure and inspiration. Have a great Homecoming and hope to see you at the game. Go Ags!
Sincerely,
Gary S. May
Chancellor
In this week's Thursday Thoughts video, Chancellor May and LeShelle talk about concerts they've attended and one they are eagerly anticipating, and financial aid, scholarships and the new #CaliforniansForAll College Corps as ways to help pay for college
Primary Category
Tags