Checking In With Chancellor May: Testing
To the UC Davis Community:
In the biggest expansion yet of our asymptomatic testing program on the Davis campus, on Wednesday, November 18, we will begin providing COVID-19 testing for all students and employees coming to campus. We are already testing students who live on campus; now we are including students who live in and around Davis.
This is an amazing achievement for our testing program, to have come this far in just a few months, and we did it with our own team, including Richard Michelmore and his colleagues at the Genome Center who developed our saliva test and analyze the samples, turning out results in 24 to 48 hours.
Hundreds of other people in our UC Davis family, from units all across the campus and the Causeway, are also involved in this effort. They join the Genome Center in a single mission: to protect as best we can the health of our community. We are so proud and appreciative because we know that quickly identifying people who are infected is a critical component to reducing the virus' spread. 
UC Davis Health also has news on the testing front, having rolled out a groundbreaking, highly accurate test that can check for both COVID-19 and flu viruses at the same time, returning "gold-standard" results in 20 minutes. We are the first institution in the region and among the first in the nation to use this rapid, combined molecular test at the point of care.
Our Davis and Sacramento teams continue to impress in our fight against the COVID-19 pandemic, in research, in vaccine and drug trials, in testing, in care. They are doing this for the benefit of all. And they do this at a critical juncture: as we are seeing a surge in cases around the United States. On that note, please join our efforts in doing everything we can to combat the spread of COVID-19: Please, wear your face coverings, stay 6 feet apart, wash your hands, avoid gatherings.
These protective protocols have never been more important than they are now, with the arrival of flu season, raising fears of "twindemic" in the nation's hospitals. Please take care of yourselves.
Appointments
We began our asymptomatic testing program on the Davis campus in mid-September, focusing on students as they moved in to campus housing, and slowly expanded to different groups. This week, we added several more groups, bringing our total number of weekly tests to about 10,000. With our expansion next week, we will exceed 20,000.
With increased availability of testing, UC Davis will require you to have a test before accessing any campus facility. To monitor compliance, a testing question will be added to the Daily Symptom Survey on Dec. 1. 
If you currently visit campus once a week, you will be required to get tested every seven days. If you visit campus less frequently, then please plan ahead to secure a testing appointment up to seven days before your visit or on the day of your visit. You do not need the result before your visit, but you must have been tested.
All tests are by appointment that you arrange yourself in the Health-e-Messaging Portal. Please note that testing availability will vary each week and same-day testing appointments are not guaranteed.
Employees and students: If you are being added to the testing program Nov. 18, you must wait until that date to start making test appointments in Health-e-Messaging. 
Students: As announced by email last week, we expect you to get tested prior to any travel for Thanksgiving and winter break, and within a week upon your return. Please make your appointments as soon as you confirm your travel plans.
Learn more about UC Davis' COVID-19 testing program.
Campuswide effort
The test is one thing, but there's so much more that goes into this program: staffing and supplies, for example, and building the kiosk — and then, as we did this week, moving the kiosk indoors. We relocated it from the Pavilion Parking Structure to the Four-Court Gym in the ARC, but only after we were certain it had good airflow (we tested it with smoke).
The testing kiosk alone has a crew of more than 100, including 56 staff members, many of whom have been temporarily reassigned from their career positions in units such as the Western Institute for Food Safety and Security, Student Housing and Dining Services, and the One Health Institute. Student employees and volunteers round out the kiosk staffing.
Cindy Schorzman, medical director at Student Health and Counseling Services, is project lead for the testing program. Student Housing and Dining Services provides quarantine and isolation housing for students. Safety Services is involved on many fronts, including risk management (developing protocols from scratch), environmental health and safety, industrial hygiene, and Occupational Health Services.
Other contributing units include Campus Planning, Facilities Management, Transportation Services, and the grounds team. And let's not forget Custodial Services, who are cleaning and sanitizing our common areas. Thank you, all.
Getting the message out
I began sending my weekly "Checking In With Chancellor May" letters more than seven months ago, sharing them by email to all staff, faculty and students, and parents, too, and on social media. We've put out other messages and news updates along the way, to keep everyone informed about all we are doing to keep our university safe.
We are constantly evaluating our messaging and trying new things — which is why next week we will begin sending weekly text messages to students only — starting this afternoon (the headline will be: "UC Davis Campus Ready." If you do not receive the message and would like to, please update your contact information on the UC Davis WarnMe and Aggie Alert page. 
Coronavirus leave
Recall that in March, then-President Napolitano granted employees 128 hours, or 16 days, of Expanded Paid Administrative Leave, or EPAL for coronavirus-related absences through Dec. 31. Yesterday (November 12), President Drake extended the time frame to use these hours to June 30, 2021. His order does not increase the number of EPAL hours. [Eligibility differs for academic personnel; refer to  "Guidance Regarding COVID-19 Related Leaves and Job Protections for Academic Personnel."]
Eligible employees may use EPAL hours if an employee or family member becomes ill with COVID-19; an employee is caring for their children when schools or daycare facilities are closed; or an employee has been directed not to come to their worksite and/or their unit has moved to remote operations, and it is not operationally feasible for the employee to work remotely.
Human Resources has information on all COVID-19-related leaves available to UC Davis employees.
Checking in elsewhere:
Global platinum —

So proud of UC Davis for winning this year's only Platinum Institutional Award for Global Learning, Research and Engagement, given earlier this week by the Association of Public and Land-Grant Universities, or APLU, during its annual meeting. As we pointed out in our

news release

, global initiatives are woven throughout UC Davis' Strategic Plan, "To Boldly Go," including the campus goal of Global Education for All, which aims to provide 100 percent of undergraduate, graduate and professional students with global learning opportunities that help them build global awareness, explore global diversity and pursue global action.

Faculty diversity —

In the Presidents Lightning Round of the APLU meeting, I happily addressed our efforts to advance faculty diversity through long-term commitment, our dedicated DEI teams and various targeted

programs that can produce measurable results.

We are making progress.

Presidential election —

Last Friday, we did not know who won the election. We found out the next day.

In a message to the campus community

, I offered my sincere congratulations to President-elect Joe Biden and Vice President-elect Kamala Harris and asked all of us to do our part to strengthen our bonds and heal the divisions left by the election, to rededicate ourselves to the Principles of Community — and to be optimistic about the future.
We have come so far since March, from suspended campus operations to the resumption of research, to our gradual reopening with safety protocols all around. And now, a testing program for all who are coming on campus. We have taken on new responsibilities — building a testing kiosk, running test samples or simply going in for our tests — for the good of all. This is who we are.
Sincerely,
Gary S. May
Chancellor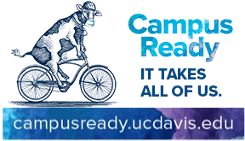 Primary Category
Tags