Checking In With Chancellor May: Wishing All a Healthy Thanksgiving
To the UC Davis Community:
The year 2020 has been difficult, I think most people would agree, considering the injustices and the sorrow in our country and around the world. With Thanksgiving next week, many of us might be wondering, Is there anything to be thankful for?
My answer is a resounding "yes." I am thankful for our students, staff and faculty who have proven so resilient in this pandemic, whether by adapting to remote instruction and working from home or maintaining essential operations on our campuses, or caring for the sick at UC Davis Health. I am thankful for "Campus Ready" in Davis and "Reimagine and Resilience" in Sacramento, which is how we are stepping up to the coronavirus challenge.
I am thankful for our COVID-19 research teams in Sacramento and Davis, including those at UC Davis Health who are involved in the Pfizer Inc.-BioNTech vaccine trial (part of a project that will soon go the Food and Drug Administration for approval).
I am thankful to everyone for being so conscientious in protecting yourselves and your families and your community. You are taking symptom surveys, and, if you are on the Davis campus, participating in our asymptomatic testing program. And you are following other protocols, including face coverings, physical distancing and hand-washing. And please don't forgot your flu shots, so we can hopefully preserve health care capacity for COVID-19 cases.
I am thankful for all the UC Davis personnel and units responsible for the development and implementation of the asymptomatic testing program, which we expanded this week to include all students and employees on campus, running some 20,000 tests weekly. The tests are free and will be required for entry to any Davis campus facility as of December 1. I am thankful for Student Health and Counseling Services, and Student Housing and Dining Services for their roles in the testing program and provision of quarantine and isolation housing for students.
The testing kiosk is in the ARC. See the Campus Ready COVID-19 Testing webpage for hours (including special hours and a three-day closure during Thanksgiving week).
Healthy Davis Together
I am thankful we can include our neighbors in our asymptomatic testing program, as part of our Healthy Davis Together initiative. We began offering our free tests on Wednesday, and, during this initial phase with limited capacity, the people whom we want to see the most are in these two high-risk populations: anyone whose job puts them around other people (say, a grocery clerk) and, because Thanksgiving is near, visitors to Davis from locations with high incidence of COVID-19.
The Healthy Davis Together tests are the same as what we are administering on campus — we are taking saliva samples and having them screened at the Genome Center, with results usually available within 24 to 48 hours. Again, this testing is only for people who are asymptomatic — if you have symptoms, you should see a health care provider.
The Healthy Davis Together testing site is the Davis Senior Center, 646 A St. Appointments are required. More information is available online, including the registration link (you will need to set up an account) and what you need to do before your appointment.
An additional Healthy Davis Together testing site is scheduled to open Sunday, Dec. 6, in the lobby of the Mondavi Center for the Performing Arts.
California COVID Notify

 
I am thankful UC Davis and six other UC campuses are piloting California COVID Notify, an exposure notification app that has great potential to slow the spread of the coronavirus — and which gained an estimated 55,000 new smartphone users this week after all the campuses pushed out announcements like this one in Dateline. That boosted total enrollment to about 75,000 as of midweek.
The technology relies on Bluetooth signals between app-equipped phones, remembering all instances of phones coming in close contact with one another. The app does not track locations, and users are never identified.
App users who test positive for COVID-19 can voluntarily share that information with the system, which will notify all people who may have been exposed, based on their app-equipped phones having been in close proximity to the infected person's phone. Early notice of possible exposure is critical, so people can quarantine and get tested and, if positive, go into isolation before possibly infecting others.
The state Department of Public Health launched the California COVID Notify pilot in mid-September at UC San Diego and UC San Francisco, resulting in about 20,000 people activating the app.
The more people who use the app, the more effective it will be. Which is why it is so gratifying to know that UC Davis and our sister campuses are playing such a big role in boosting participation.
Holiday guidance
Employees and students should note this updated travel advisory from Global Affairs, reiterating that the state is advising people to self-quarantine for 14 days upon returning from out-of-state travel. Yolo County recommends the same, in this Nov. 19 advisory.
Note, however, that Yolo County and the Centers for Disease Control and Prevention are discouraging travel, and the state of California is asking residents to stick within their own regions. And don't forget this option, one that we all have gotten to know quite well: Zoom! (By the way, Zoom is lifting its 40-minute limit for free meetings on Thanksgiving, as announced by the company on Twitter.)
And these reminders for students who are leaving Davis for Thanksgiving, as explained in this Nov. 5 email:
Wherever you are for Thanksgiving, please heed public health officials who urge you to keep your gatherings small and hold them outdoors if possible. For additional guidance, I recommend:
Undergraduate final exams in winter quarter
The Academic Senate announced a waiver of its requirement for final exams in undergraduate courses in winter 2021. Instructors will decide if their courses will have final exams, and that information must be provided to students in the syllabus/course outline by the end of the first week of classes.
As part of this waiver, the Committee on Courses of Instruction emphasized that final exams are used to demonstrate cumulative (or comprehensive) understanding of course materials. The committee encourages instructors to explore alternative assessment methods that will achieve similar goals, as appropriate for their courses. Some examples of alternative assessment methods can be found on the Keep Teaching website.
P/NP for undergraduates in winter quarter
The Academic Senate also announced flexibilities pertaining to Passed/Not Passed (P/NP) grading for undergraduates in winter 2021 (and one additional flexibility for our current quarter, fall 2020):
S/U for graduate students in winter quarter
The Academic Senate announced the following flexibilities for Satisfactory/Unsatisfactory (S/U) grading in winter 2021:
All Academic Senate flexibilities are available on its COVID-19 webpage. Additional instructional and advising guidance for students is available on the Campus Ready Student FAQ.
On-campus research: Phase 2x
An update from Prasant Mohapatra, vice chancellor of research: Under our On-Campus Research Ramp-Up Plan, our facilities have been operating in Phase 2x, whereby the occupancy level in each facility is limited to 50 percent of the normal capacity. Researchers (faculty, staff, postdocs, and graduate and undergraduate students) have been following their standard operating procedures and maintaining healthy practices related to physical distancing, cleaning surfaces and wearing face coverings. We will continue operating at the same level of activities for now.
Checking in elsewhere
Happy Thanksgiving
In wishing all a Happy and Healthy Thanksgiving, let me express my gratitude once again to the UC Davis community, for your strength and dedication, and to the Davis community, for your neighborliness and collaboration. Please take time during the holiday to share your own gratitude. And may we all reflect on how far we have come and rededicate ourselves to keep up the good fight.
One final note: Your chancellor's letter will take the day off next Friday. I'll be back in your inbox on December 4.
Sincerely,
Gary S. May
Chancellor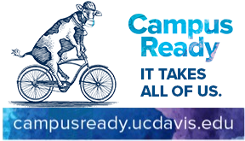 Primary Category
Tags