State of the Campus: 2022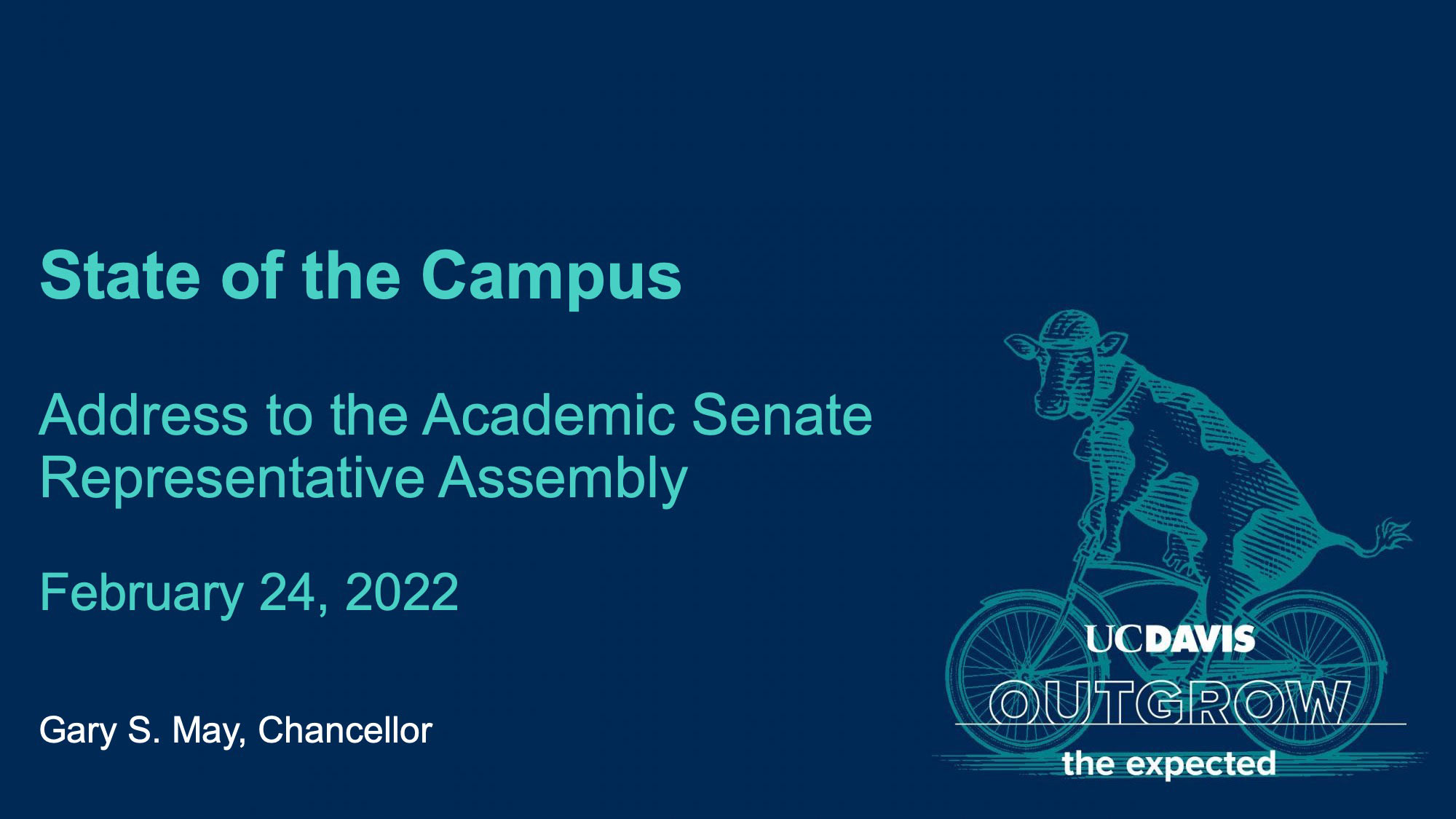 Here are my prepared remarks for my 2022 State of the Campus address, which I delivered the afternoon of Feb. 24 to the Representative Assembly of the Academic Senate:
---
I hope you're all doing well. The past year has been full of both triumphs and trying times. But through all the challenges, our State of the Campus remains strong. We are moving forward with excellence and great ingenuity. We are moving forward with care for our UC Davis community and a mission to serve the greater good.
I'd like to commend you for your adaptability and flexibility. A lot has been asked of you since the pandemic began in 2020, often on short notice, but you never failed to deliver.
I'd especially like to commend the Academic Senate for your guidance and collaboration over the past year. Thank you for your leadership and dedication that helps us navigate the challenges we face.
Here's a closer look at where we stand now, and how we're headed to a thriving future.
Return to campus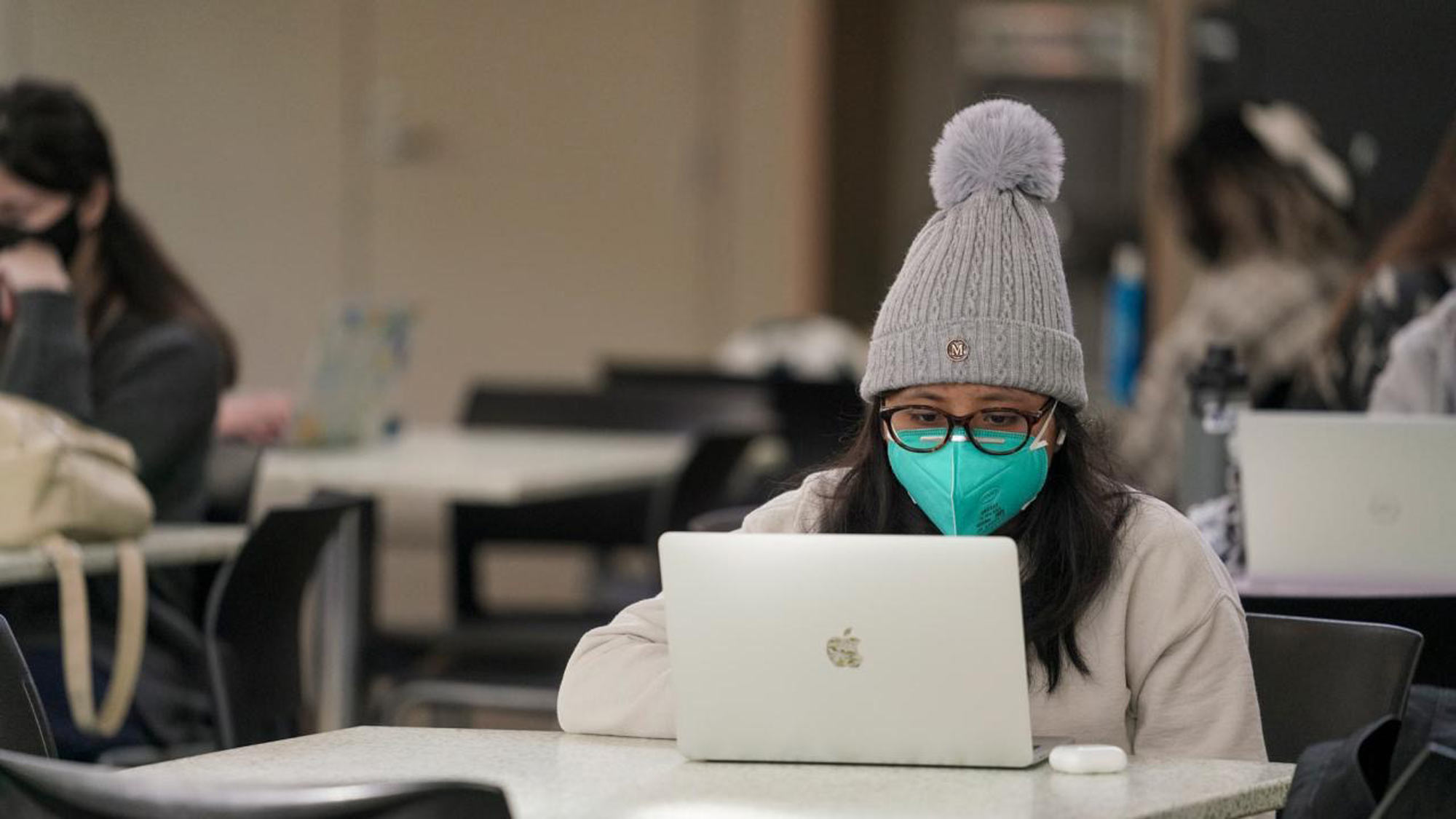 As you know, we made a collective decision to start winter quarter remotely through Jan. 28. This followed our careful practices since early 2020, and is part of prioritizing the health and safety of our larger community.
We continue to make decisions based on the science and public health guidelines we've been following from the beginning. On matters related to remote instruction, we turned to the Academic Senate as our trusted partners in shared governance.
POWERPOINT
Download the complete PowerPoint presentation:
In any decision we make, we weigh the data, consult with experts and other campus leaders, and review all relevant information before making decisions that impact the 70,000 people in our community.
We made the return to in-person instruction after tracking the data closely. It showed the Davis campus had passed the peak of omicron infections reported by employees and students, and the positivity rate was continuing to decline. Currently we are noting a positivity rate of less than a 1%. We are definitely moving in the right direction.
Still, we will remain just as vigilant about our public health in the coming year. Part of this was requiring COVID booster shots by the end of January for all eligible students, faculty and staff. Our testing protocols and other health measures remain in place.
We are continuing to require masks and face coverings indoors on campus, and this will remain at least through winter quarter. Even though Yolo County and the state of California rescinded their mask mandates last week, we have decided to maintain the status quo.
We are continuing to monitor our campus testing results closely, including our genotyping results, along with those from Davis and the rest of Yolo County. We are in regular contact with the county's public health officer to ensure compliance with changing guidelines and to keep our community as healthy as possible.
Applications and enrollment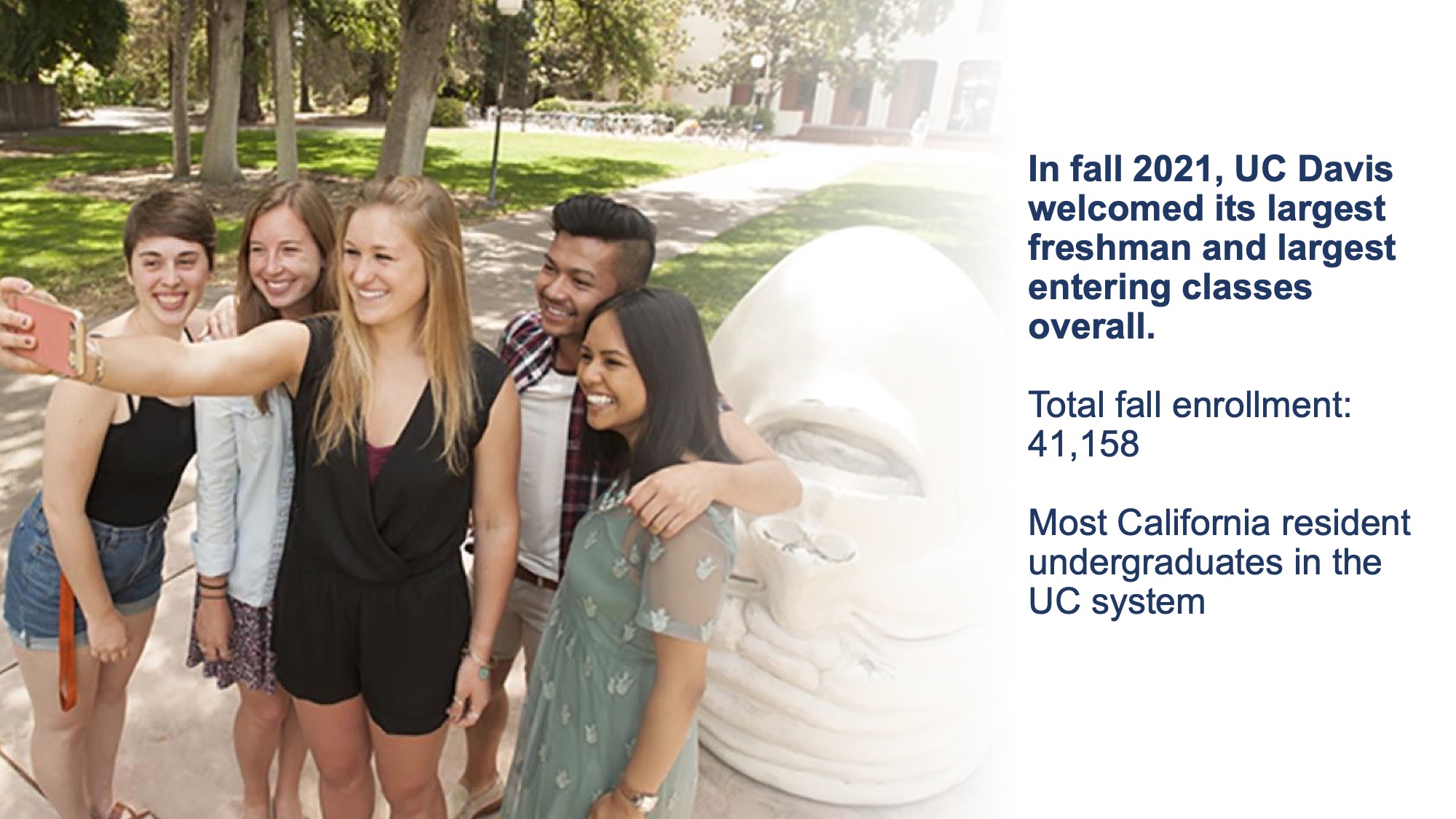 Even during a pandemic, prospective students are deeply interested in UC Davis.
In the fall of 2021, UC Davis welcomed its largest freshman and largest entering classes overall. This entering class of 10,479 students represents a 13.4% increase over the previous year and 10.9% above our enrollment target.
Total fall enrollment — including undergraduate, graduate, professional students, and 1,108 interns and residents — at all locations is 41,158. We are proud that so many students are choosing UC Davis.
I'd also note that in every fall since 2010, the Davis campus has enrolled the most California resident undergraduates in the UC system. For the fall of 2021, this number was 26,168.
Since fall 2010, UC Davis has met the 2:1 freshman-to-transfer ratio, with the only exception being this year, fall 2021. While we met our target for transfer students, the overenrollment of freshmen caused us to be just short of the goal. We have a long-standing commitment to transfer students and I have no doubt that we will continue to succeed in this area.
Rankings
Our recent rankings show that we're headed right toward the top.
Forbes named UC Davis No. 4 among public universities in the nation for — quote — "the most outstanding education to the broadest range of students at the most affordable price."
And we're in the elite of U.S. News & World Report's Best Colleges. which ranked us 10th in the country for public universities — among the best, where we belong.
In other rankings, UC Davis is the very top. GreenMetric World University rankings places us No. 1 in campus sustainability. We're No. 1 in the nation for agriculture and veterinary medicine.
We're also No. 1 in the nation for campus diversity, inclusiveness and internationalization, according to QS University Rankings. That means we're preparing our students for success in the global workforce. I'll speak more on this in a moment.
Faculty honors
Our world-class faculty are helping us reach new heights. They are people like Pam Ronald, a plant geneticist who recently won the International Wolf Prize in Agriculture. This is among the most prestigious awards in agriculture, and Pam was honored for her pioneering work in global rice sustainability.
She is also the first woman honoree among the six UC Davis scientists who've received this award. I'd also note that Pam is a nominee for the senate's Faculty Distinguished Research Award, which will be voted on today.
Congratulations to Pam on all your accomplishments!
I'd also like to recognize Keith Watenpaugh, professor and founding director of Human Rights Studies at UC Davis.
He was named by Human Rights Educators USA as the winner of its O'Brien Award for individual achievement for 2021.
Keith was noted for developing Human Rights Studies at UC Davis into the largest program of its kind in the UC system. He was further recognized as the founding director of Article 26 Backpack, a cloud-based technology that helps refugees and other displaced peoples document and share their educational accomplishments.
UC Davis also added two new members to the National Academy of Engineering this month.
They include Professor Kate Scow, a Distinguished Professor Emeritus of soil and microbial ecology in the Department of Land, Air and Water Resources. Her pivotal research investigates the relationships between indigenous soil microbial communities and critical ecosystem processes such as biogeochemical cycling and biodegradation.
She is joined by Dan Sperling, the founding director of the Institute of Transportation Studies and of the Policy Institute for Energy, Environment and the Economy at UC Davis. Dan was recognized for pioneering new fields of study to create more efficient, low-carbon and environmentally beneficial transportation systems. He was co-director of a 2007 study that designed California's low-carbon fuel standard.
UC Davis also added nine new fellows to the American Association for the Advancement of Science. These faculty members span a range of disciplines, including academic administration, research and technology.
The list includes Helene Dillard, dean of the College of Agricultural and Environmental Sciences, chemistry professor Davide Donadio and psychology professor Fernanda Ferreira.
Also recognized are Distinguished Emeritus Professor John Gunion from the Department of Physics and Astronomy, Professor Linda Harris from the Department of Food Science and Technology, and Johannes Hell from the School of Medicine's Department of Pharmacology.
This impressive list is rounded out by Professor Christine Kreuder Johnson from the School of Veterinary Medicine, Professor Jay Stachowicz from the Department of Evolution and Ecology and Professor Karen Zito from the Department of Neurobiology.
They were inducted last week and I send my congratulations to them all.
Chancellor

'

s Fellows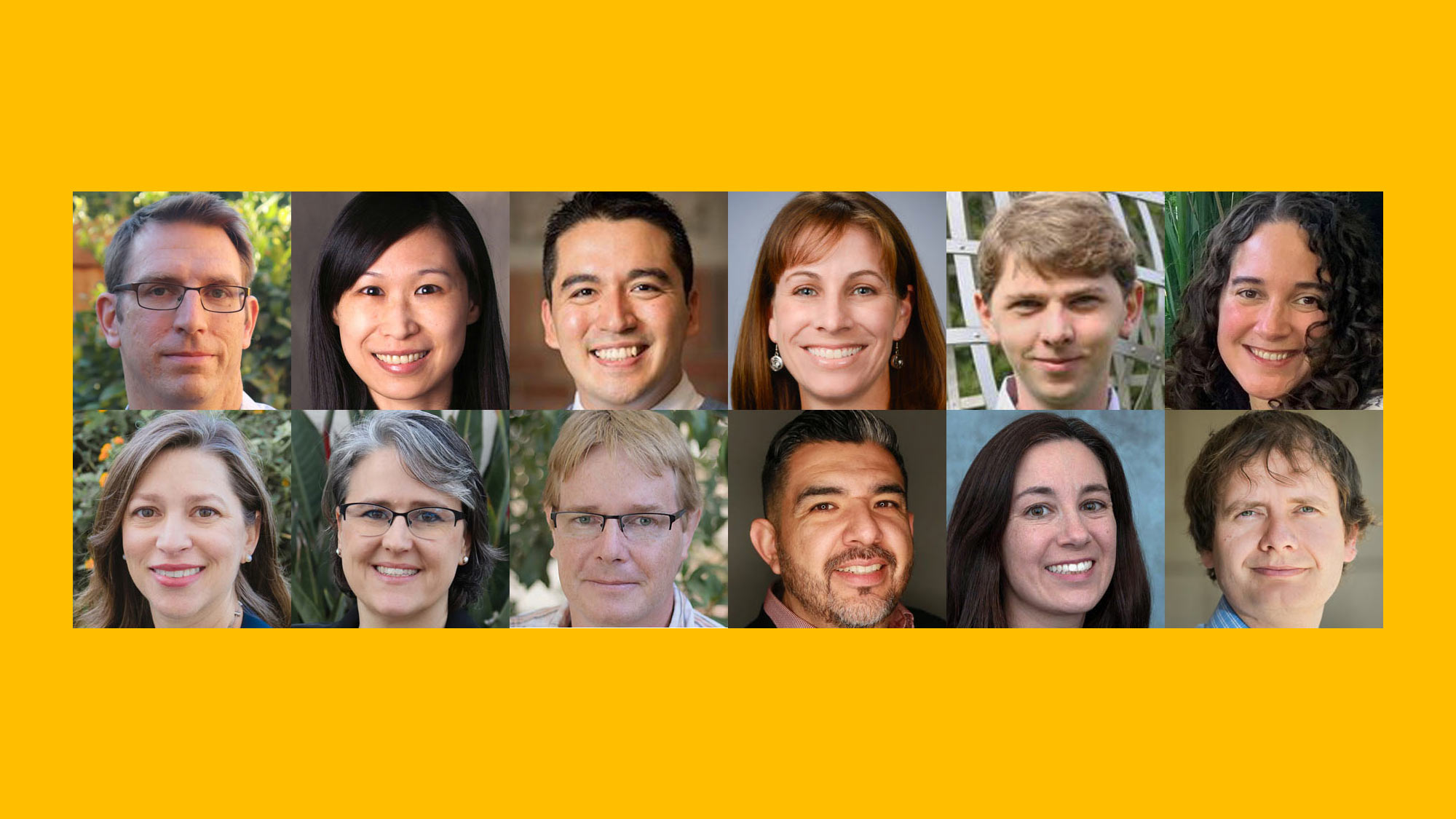 Also, I wanted to give recognition to my Chancellor's Fellows. These 12 new fellows receive $25,000 in unrestricted funding for their outstanding work in academia and for advancing solutions for critical and complex issues.
They are [from left to right in the photo above]: Top row — John Albeck (molecular and cellular biology), Ching-Hsien Chen (internal medicine), Gerardo Con Diaz (science and technology studies), Carrie Finno (veterinary medicine) and Evgeny "Eugene" Gorskiy (mathematics). Bottom row — Michele La Merrill (environmental toxicology), Marina S. Leite (materials science and engineering), Barbara Linke (mechanical and aerospace engineering), Gerardo Mackenzie (nutrition), Danny C. Martinez (education), Mijke Rhemtulla (psychology); and Jaroslav Trnka (physics and astronomy).
Keep in mind this is just a small sample of the incredible work that's generated by our faculty. All around this room you'll find leaders and trailblazers in their respective fields. Our faculty are second to none and you continue to make the university shine.
Recruitments
Now, I'd like to give you a quick update on some leadership recruitments that are underway.
Kelly Ratliff, our vice chancellor of Finance, Operations and Administration, or FOA, will be retiring in May.
Kelly is a UC Davis alum who's spent nearly three decades on campus. Kelly's been a key member of our leadership team, especially in leading a multiyear expansion of student housing on campus and our response to the COVID-19 pandemic and our Healthy Davis Together initiative.
A national search for her replacement is currently underway and we expect to start conducting interviews in early spring.
Also, we are in the final stages of recruitment for the chief financial officer at UC Davis Health. This person will replace Tim Maurice, who is retiring in March. They will have dotted-line reporting to the next vice chancellor of FOA to coordinate and align the financial foundation of the university overall.
Revenue and budget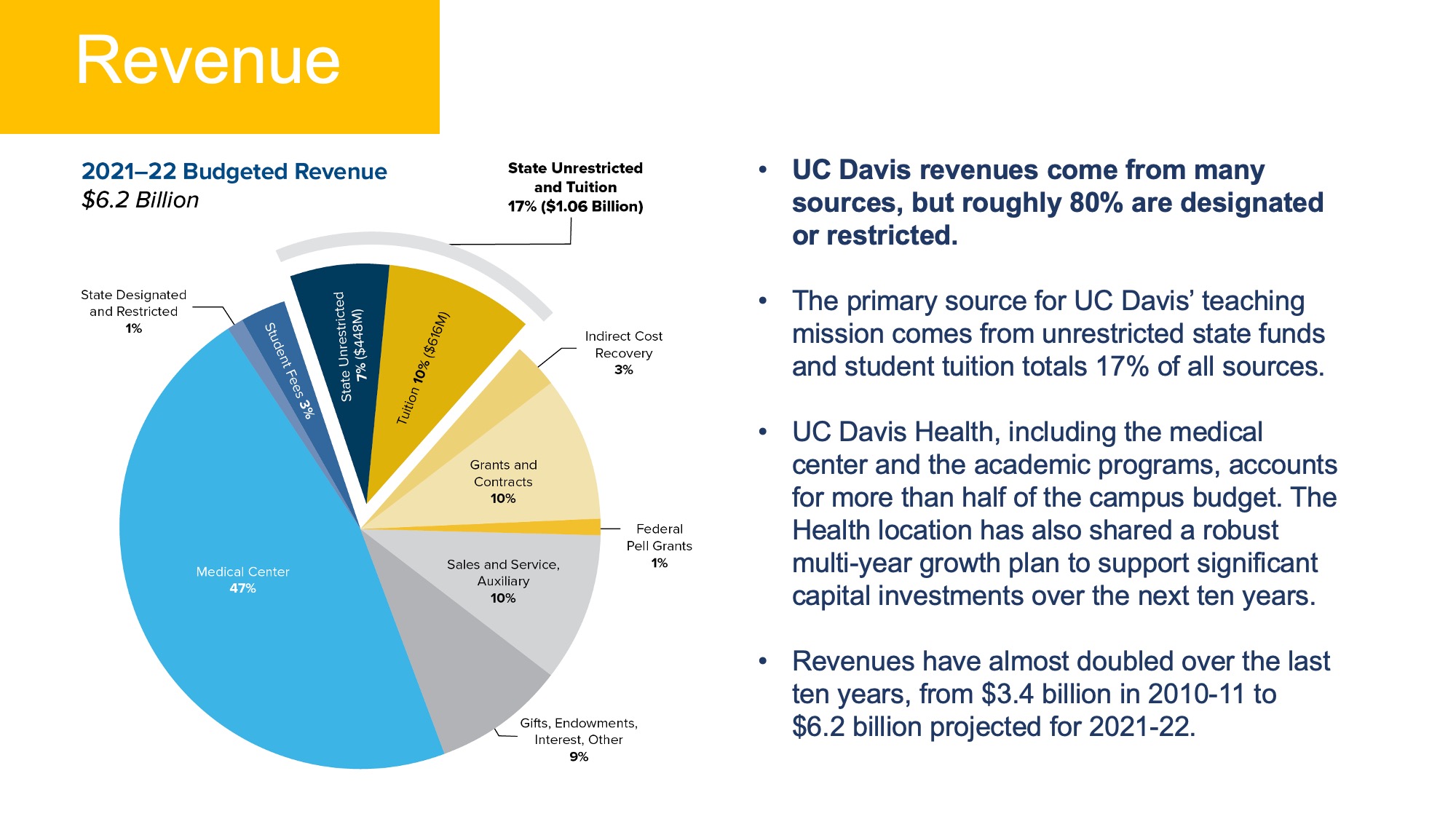 Now, let's take a look at UC Davis' financial profile and budget matters.
UC Davis revenues total over $6.2 billion from many sources that are generally aligned with the overall mix of funds for the entire UC system.
Revenues have increased steadily over the last 10 years, from $3.4 billion in 2010-11 to $6.2 billion for 2020-21. The largest increases have occurred at the medical center and with other restricted funds. State funds and tuition have decreased from 22% to 17% of all sources. Private funds from gifts and investments have increased from 5% to 9%.
State funds and tuition account for about 17% of all sources. In January 2020, the campus identified the need to reduce reliance on these funds by $100 million by 2025. The multiyear effort to address this challenge continues. However, our long-term financial picture is much improved compared to what we expected at this time last year.
The restoration of the 2020-21 state budget reduction and increased unallocated state funding in the current fiscal year has stabilized our core funds for the next several years. However, we must also continue to identify efficiencies and opportunities to generate net revenue for long-term financial sustainability.
The governor's budget proposes a multiyear compact that would provide the university with 5% annual increases in state support for the next five years if progress is made toward specific policy goals. While this is an encouraging sign of support for the university, the outcome of this proposal will depend upon negotiations with the Legislature over the coming months.
The governor's budget also does not include funding to support all California resident undergraduate students we currently enroll. We expect that this funding will be a key point of negotiation with the state. At UC Davis we enroll about 1,200 students for whom we have never received state enrollment funding.
Aggie Square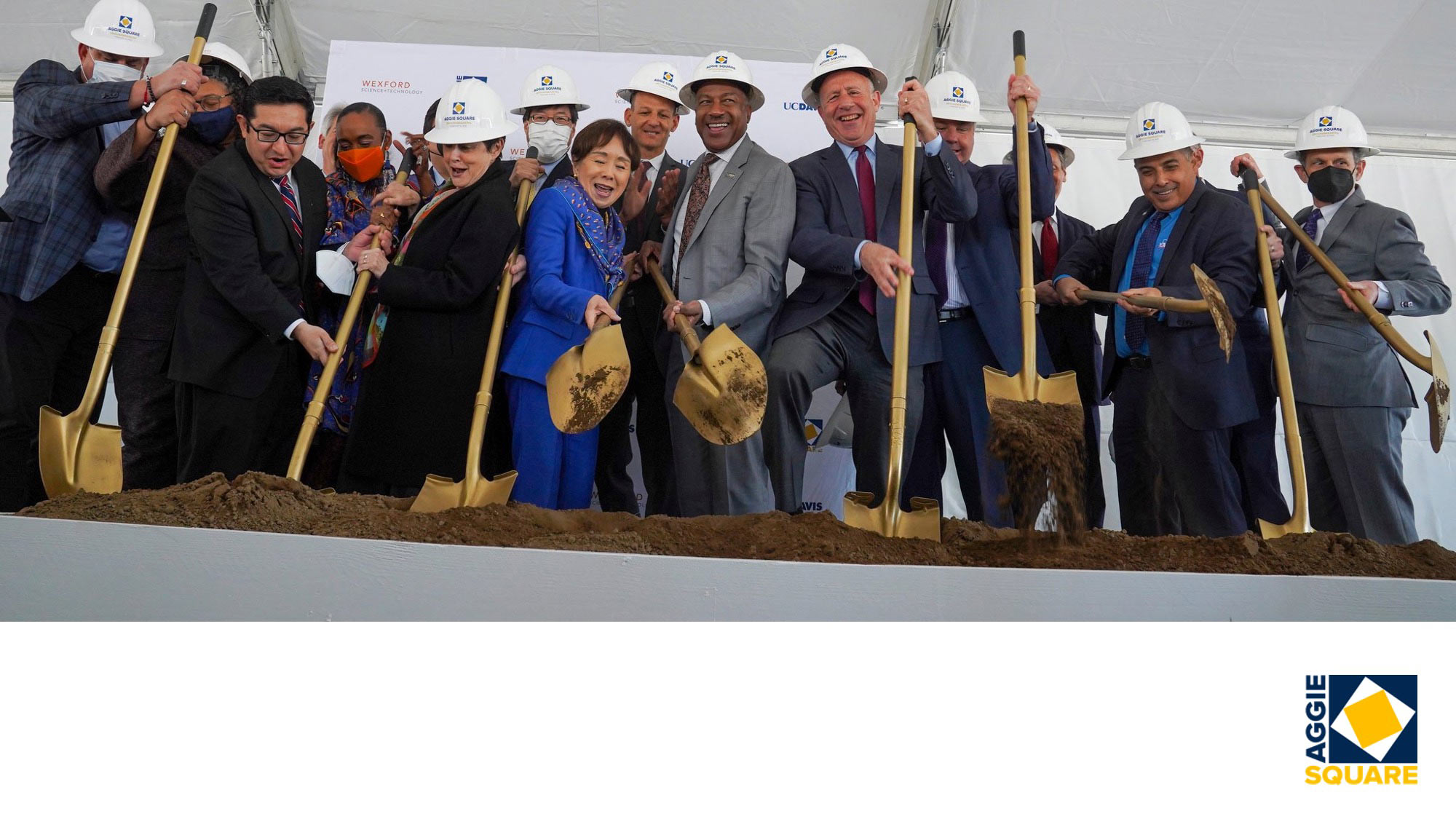 Now, I'd like to turn to share some exciting news and highlights from across UC Davis.
Here's a big one. Last week we celebrated the groundbreaking of the first phase of Aggie Square. Sacramento Mayor Darrell Steinberg, Congresswoman Doris Matsui and culinary icon Alice Waters were among those in attendance. Maisha Winn was one of our speakers; she and Terry Winn from the School of Education, along with Lorena Marquez of Chicana/Chicano studies have been teaching transformative justice as part of our Quarter at Aggie Square for undergraduates.
This milestone event celebrated the partnership of the city of Sacramento, our developer, Wexford Science & Technology and, of course, UC Davis. We look forward to Aggie Square's future — as a home for transformative research from across the university, an innovation hub for industry partners and a collaborative place to engage students, entrepreneurs and the local community — creating a catalyst for economic change.
Construction is set to begin in April. This first phase of construction will include two life science buildings with lab space, a classroom and office tower, a housing, food and health building, an open-air marketplace and a public square.
Aggie Square is definitely on a roll and I anticipate more news to arrive soon.
Research awards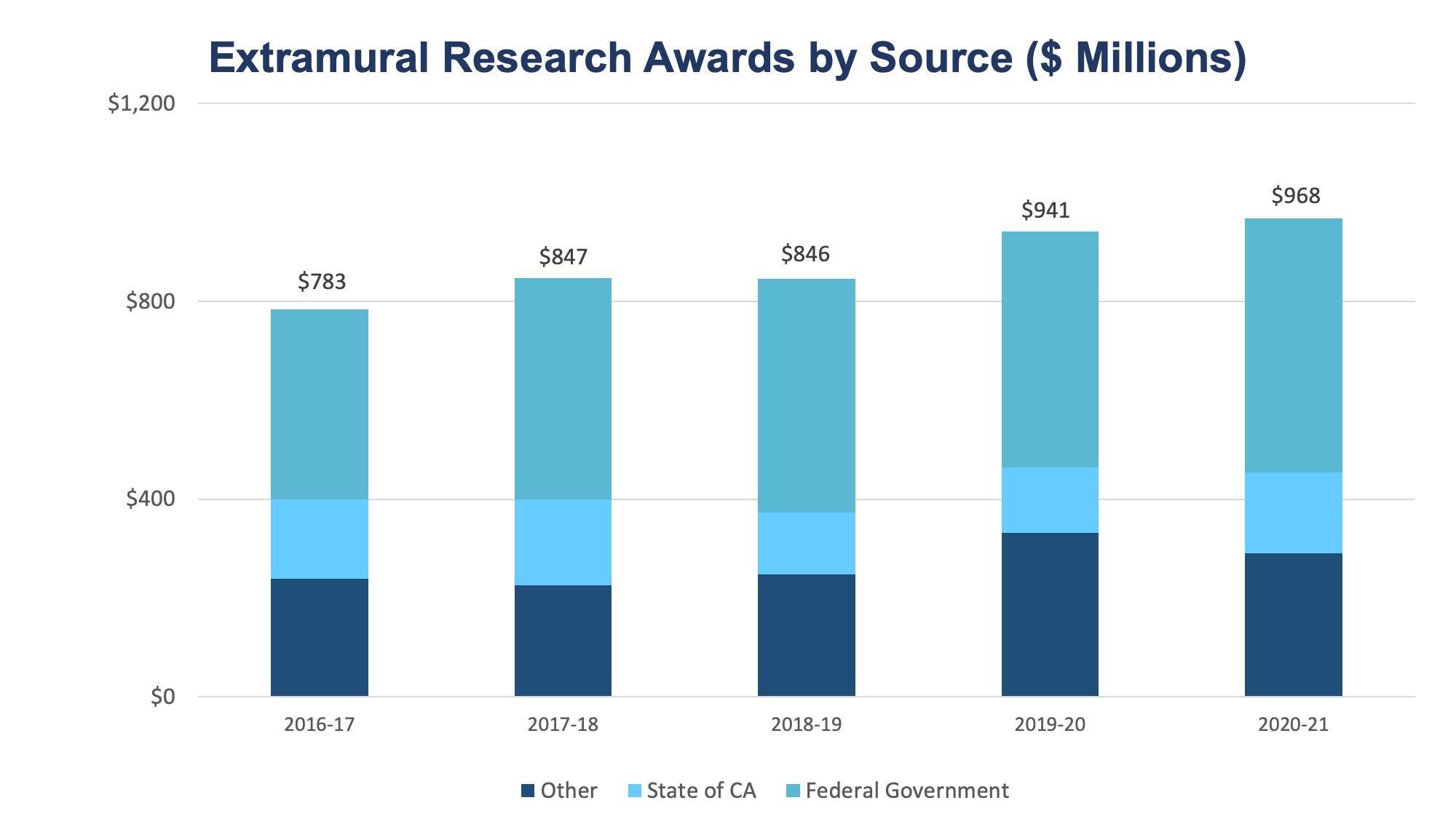 I'm also encouraged by significant growth that we've seen in research funding. UC Davis set a new record for research awards in 2020-21 with $968 million, which reflects about a 30% increase over the last 10 years.
The awards included research topics in human and animal health, protecting the world's food supply, strengthening college preparation through diverse course pathways, and a broad range of others.
One of those research awards went to Karen Moxon, a professor in the Department of Biomedical Engineering. She received a $22 million grant from the Department of Defense and leads a consortium of universities, biomedical startups and nonprofits to carry out research on spinal cord injuries.
The largest new award went to Marc Schenker, a Distinguished Professor of public health sciences.
He received $51 million from the Department of Health and Human Services' Centers for Disease Control and Prevention. The research will focus on improving public health outcomes for all Californians by providing proper disease surveillance and prevention.
We are all proud of this new record. It shows the unwavering commitment of our research community and their passion to address important societal needs — especially during a time when operations were constrained due to the COVID-19 pandemic.
Philanthropy
Philanthropy at UC Davis is also reaching new heights. UC Davis recently recorded the greatest fundraising year in its history. For fiscal year 2020-21, the university raised a record $269.4 million from more than 36,000 donors, with an all-time high of 63,650 gifts and pledges.
The university is making significant progress toward its comprehensive fundraising campaign goal. As of February 17th, more than 108,000 donors had contributed more than $1.54 billion to the Expect Greater campaign, with the goal of raising $2 billion by 2024.
We are thrilled to be 77% to goal. It's simply inspiring to see how much people want to support our university, especially in the midst of a pandemic.
Diversity
In more good news, UC Davis continues to ascend as a role model for diversity, equity and inclusive excellence. I am proud that UC Davis was named No. 1 in the nation for campus diversity, inclusiveness and internationalization in the most recent QS World University rankings.
The university has made strategic investments to implement goals set forth in our strategic plan and Diversity and Inclusion Strategic Vision, which was developed in 2017.
Our Office of Diversity, Equity and Inclusion is leading efforts across all locations. The university has engaged the entire campus community and is making progress by supporting students, faculty and staff, working to close opportunity gaps and improve campus climate, and investing in training, community and accountability.
Some of these notable investments include:
Hiring positions to address the recommendations made in the School of Medicine's 2020 Racial Justice Report Card, which was produced by student leadership within the UC Davis chapter of White Coats for Black Lives.
Expanding offerings of seminars related to DEI, including racial consciousness workshops and video series, as well as unit and department trainings focused on increasing awareness and sensitivity about diversity.
And, partnering with Student Affairs and Graduate Studies to fund graduate student researcher positions to specifically support graduate students in the LGBTQIA Resource Center, Cross Cultural Center, and Women's Resources and Research Center.
Sustainability
A commitment to sustainability also remains a key value and point of pride at UC Davis. That's shown in our No. 1 in North America spot with the GreenMetric World University rankings — a top placement we're now celebrating for the sixth consecutive year.
UC Davis is applying its collective strengths in science, engineering, art and design to the problem of climate change and a warming planet. Research is happening everywhere — in the air, at sea and on land. Researchers at UC Davis, and at our sister UC campuses, are revealing the many impacts of rising temperatures on the atmosphere and environment.
I'm encouraged that UC Davis achieved a 40% reduction in our business operations-related greenhouse gas emissions since 2007. I believe we're on track to meet the UC Carbon Neutrality Initiative by 2025.
UC Davis will update its Climate Action Plan in 2022. I recently formed a new Campus Advisory Committee on Sustainability, which will oversee these efforts.
UC Davis is also looking at sustainability through a diversity and equity lens. That means considering those who may be most impacted by climate change and by UC Davis' adaptation to climate change.
I have asked the newly formed Campus Advisory Committee on Sustainability to shepherd these efforts.
Conclusion
I hope this campus update has been helpful for you. I continue to be reminded that UC Davis never fails to show its strength in times of great challenge.
I can't help but feel optimistic for the days ahead. I expect that we'll see the campus return to more of the "normal" that we know. Picnic Day and the Whole Earth Festival are being planned as in-person events. We also have in-person spring commencements coming to UC Davis Health Stadium in June.
In the meantime, I hope you read my "Checking In With Chancellor May" letters that are sent monthly and contain the latest updates about campus operations and other news. The next one is scheduled for March 11th, the last day of finals for winter quarter.
Thanks again for all of your hard work and dedication. Your input and leadership are crucial to our success, and I appreciate all you do for the university.
I'm happy to answer your questions.
Primary Category
Tags