State of the Campus: 2023
These are Chancellor Gary S. May's prepared remarks for his 2023 State of the Campus address, which he gave the afternoon of Feb. 16 to the Representative Assembly of the Academic Senate. Ahmet Palazoglu, professor of chemical engineering and chair of the Academic Senate, introduced the chancellor.
---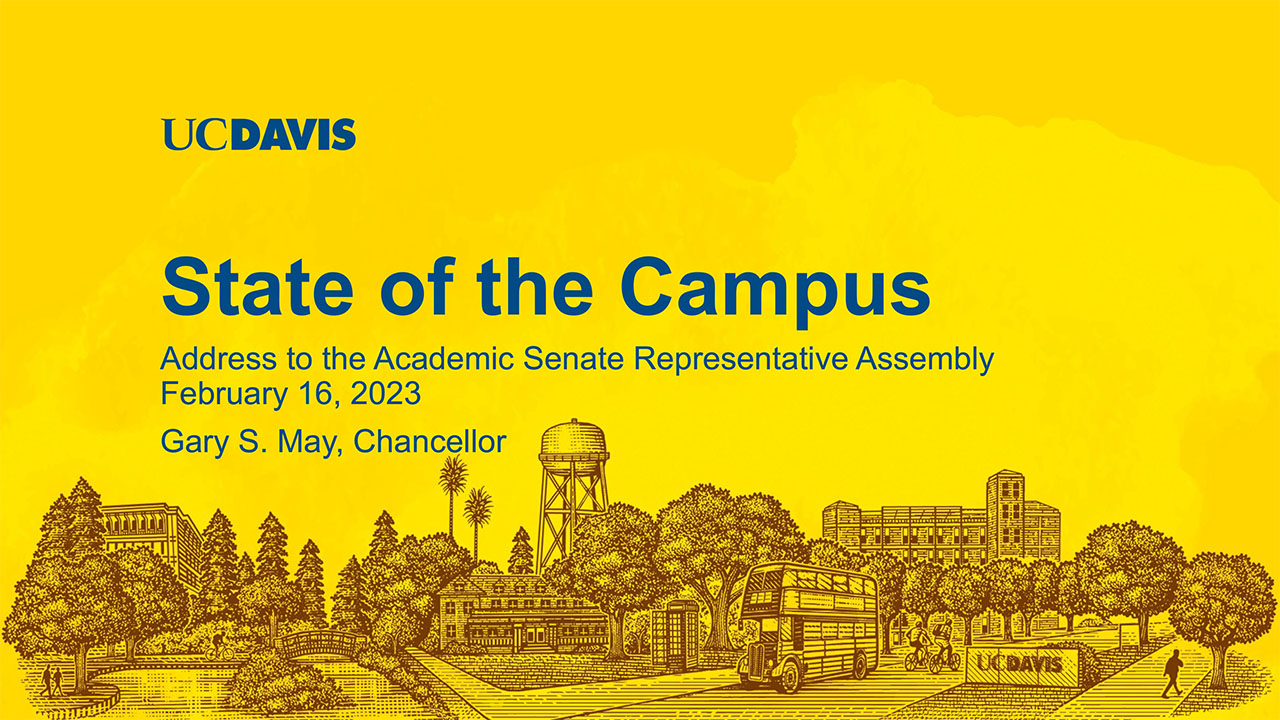 Thank you, Ahmet. I appreciate this opportunity to meet with the Academic Senate and share the current state of UC Davis.
The past year at UC Davis was marked by major growth and greater impact than ever before. That includes setting records in research award funding and philanthropy, and reaching new levels of economic impact. We also welcomed new facilities, such as the Teaching and Learning Center, the Graduate Center at Walker Hall, the Ernest E. Tschannen Eye Center, and we broke ground on Aggie Square.
We're advancing the scholarship, research and public service that benefits not only our region, but the entire world. The dedication, excellence and leadership from faculty drives these successes.
Strike and impact on UC Davis
Before we go further, I'd like to thank you for your endurance during the strike.
As of January 30, instructors of record had submitted 99.1% of undergraduate grades, or 132,235 grades. The remaining 0.9% is a combination of missing grades and placeholder grades of NG, or no grade.
The deadline for grade submission was Monday, February 13. Note that we have continued to offer central support to the colleges if an instructor needs to hire additional help to complete their grading.
UC Davis has not taken any payroll actions, as we are awaiting guidance from UCOP. Up to now, we have received 352 attestation forms from UAW members
Forty-two of the forms acknowledge the withholding of work and authorize a reduction to future earnings.
Two hundred fifty-five forms acknowledge that work was withheld but do not authorize a reduction to future earnings.
The remaining 50 forms were from people who did not need to submit a form, or from people who withheld work and submitted time off on their time sheet.
Overall, in terms of contract budget impacts at UC Davis, estimated salary and benefit costs associated with the new UAW contract range from a low of $77 million to a high of $95 million from a portion of the 2022-23 fiscal year through the 2026-27 fiscal year. This additional amount is currently unfunded.
Funding for salary and benefit increases for graduate student researchers, postdoctoral scholars and academic researchers supported on current grants will be a shared responsibility. We are currently developing a process to identify funding, which will be finalized following consultation with dean's offices, the Office of Research and Academic Senate leadership. Information will be broadly disseminated in the coming weeks.
Applications and enrollment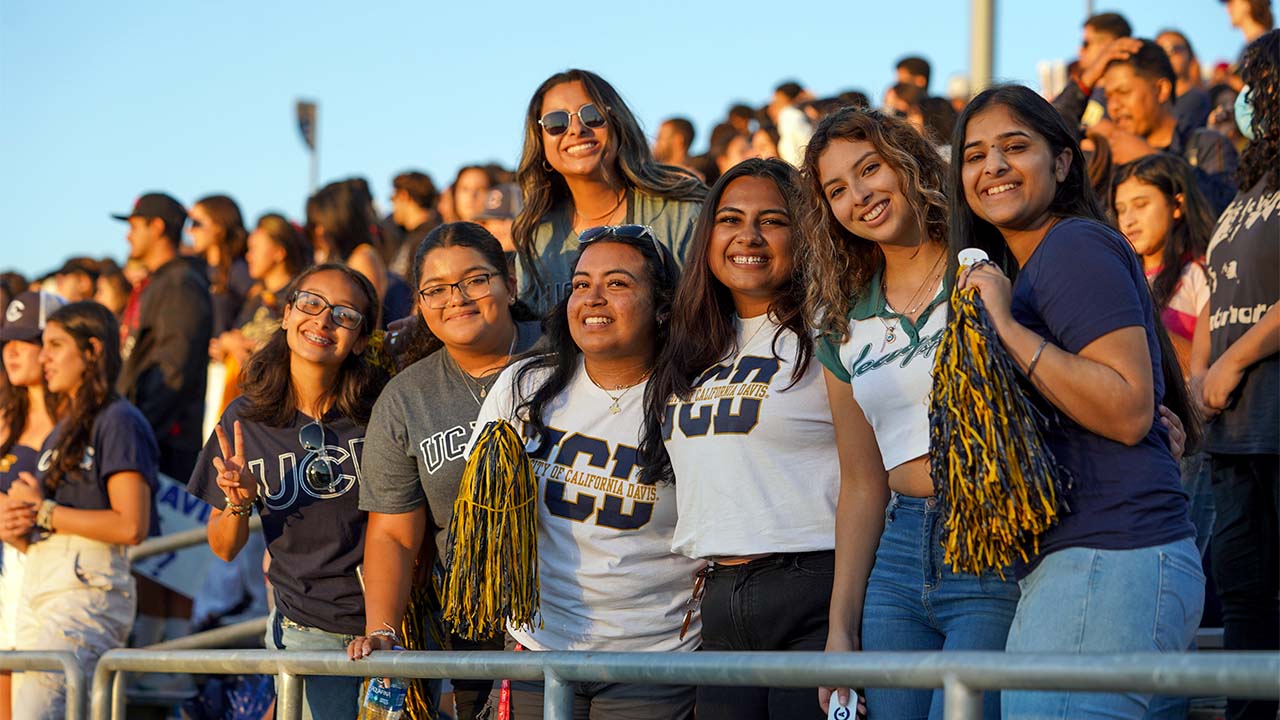 Let's now take a closer look at where we stand regarding prospective students, and how UC Davis is planning ahead.
In 2022, we had a record number of student applications, with 110,189 applicants seeking to enter as freshman and transfer students in fall 2022. That was a 4.1% increase over the previous year.
Of all the UC campuses, UC Davis continues to enroll the most California resident undergraduates, including new and continuing students. We've done so every year since 2010. That's a real point of pride.
Based on demographic information reported from our California resident freshmen and California Community College transfers admitted for fall 2022:
Roughly 38% are first-generation students, who will be the first in their families to graduate from a four-year university;
About 42% are from low-income families; and
Between 31% and 32% are from historically underrepresented groups, including African American, American Indian, ChicanX/LatinX and Pacific Islander.
Turning to fall 2023 applications, 109,350 students have applied to UC Davis. That number is just 0.8% shy of the record high set last year. So, while these application numbers are still high, they reflect declines seen across the UC system. 
Breaking down the 2023 fall application numbers further, 94,608 applied for first-year admission and 14,741 applied for transfer admission.
Rankings
Our impact is reflected in a number of rankings that place us at the top for public universities.
U.S. News & World Report ranked us as the No. 10 best public university in the fall. Also, Washington Monthly ranked UC Davis last year as the second-best public university in the country for research, social mobility and public service.
We also held our No. 4 public university ranking with Forbes in its 2022 edition of "America's Top Colleges," which is based on student outcomes, including graduates' high earnings and influence.
UC Davis remains at the top in places you'd expect, such as No. 1 for campus sustainability and veterinary medicine. UC Davis is also ranked No. 1 in the nation for diversity, inclusiveness and internationalization.
Economic impact
Let's turn to data we related about our economic impact, which reflects both the Davis and Sacramento campuses.
A report we released toward the end of 2022 revealed that UC Davis generated $12.56 billion in statewide economic activity and supported 68,900 jobs in 2019. This was an increase of $4 billion in economic impact from our last report, which was conducted from 2013 to 2014.
The analysis also found that every dollar UC Davis spent in California generated an additional $1.10 of economic activity in the state.
A second report, the local fiscal impact analysis, compared the taxes generated locally by students, faculty, staff and visitors to the costs of providing municipal services to those same populations. It found the university's net fiscal impact was $765,000 to the benefit of Davis and about balanced for Yolo County. 
Altogether, it shows that as a public university, we are fulfilling our mission of contributing to our local and state economies and the livelihoods of so many.
Budget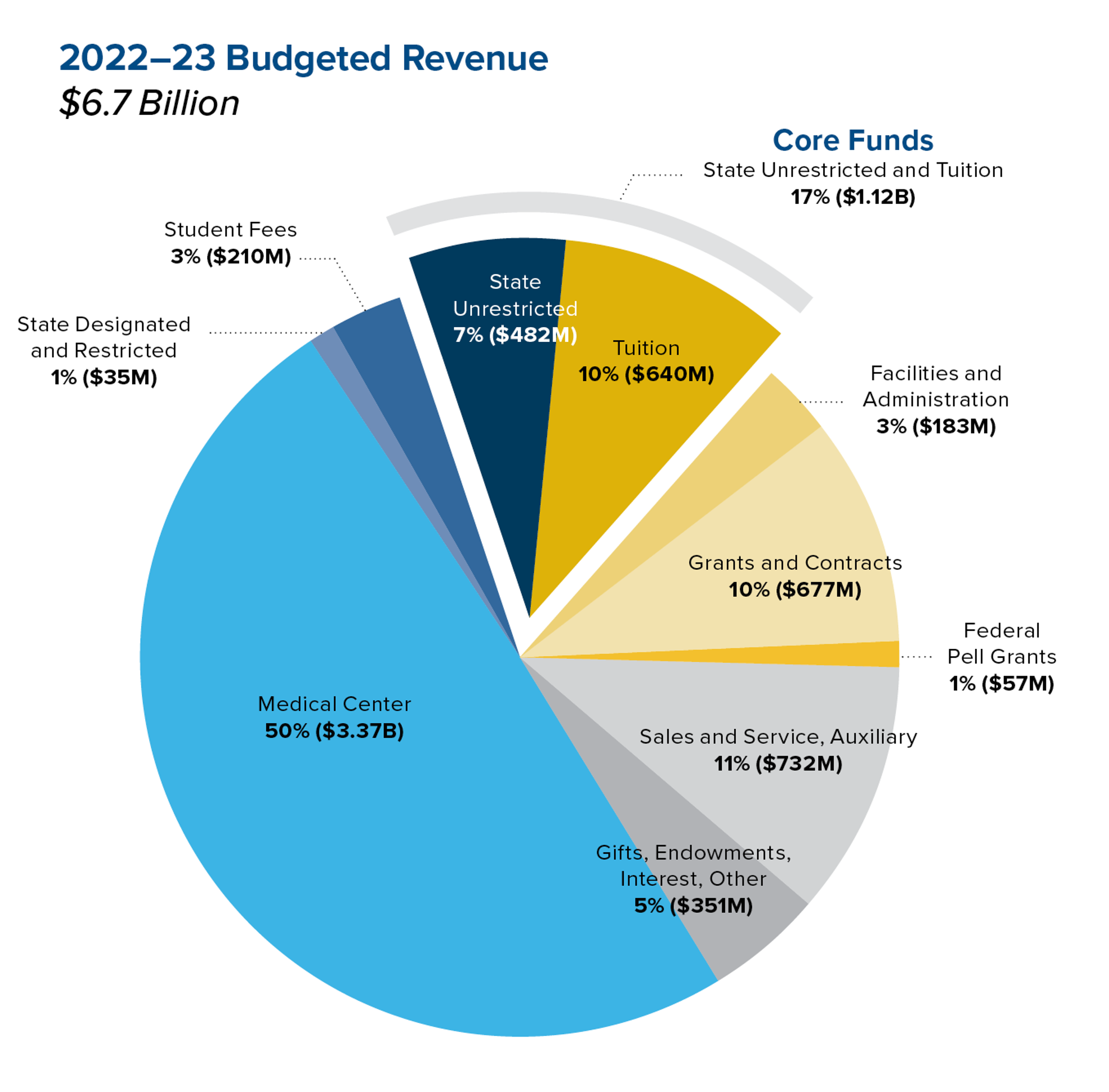 Now let's take a look at UC Davis' financial profile and budget matters.
UC Davis revenues total over $6.7 billion from many sources that are generally aligned with the overall mix of funds for the entire UC system.
Revenues have increased steadily over the last 10 years, from $3.4 billion in 2010-11 to $6.7 billion for 2022-23. The largest increases have occurred at the medical center. Contracts and grant funding have also grown substantially over this period and last year we surpassed $1 billion in external research awards. Our "core funds" the combination of state funding and tuition have decreased from 22% to 17% of all sources.
Core funds account for about 17% of all sources. In January 2020, the campus identified the need to reduce reliance on these funds by $100 million by 2025. This amount is expected to increase due to the recent labor agreements. Our multiyear effort to address this challenge continues.
We continue to identify savings and efficiencies for long-term financial sustainability. 
Our faculty and staff members recently submitted more than 800 ideas for institutional savings or revenue-generation, and now UC Davis task force members are working to identify options that could achieve at least $50 million in ongoing net revenue and efficiencies that can be applied to our core mission.
Last spring, the university and governor agreed to a multiyear compact that would provide the University of California with 5% annual increases in state support for the next five years if progress is made toward specific policy goals, including increased enrollment of California residents systemwide.
Many of these goals are aligned with our campus strategic plan and our educational values, including improving student success, advancing equitable outcomes, improving overall affordability for our students and addressing workforce preparedness in key fields.
While this is encouraging, and we are grateful for this increased commitment from the state, it is important to note that a 5% increase in state funds affects less than half of our core funds that support our instructional and research mission. It is effectively only about a 2% increase in our core funds. This perpetuates our core fund structural deficit, as increases in employee costs continue to outpace our funding. This is the reality on every UC campus.
Research funding and major awards
Moving along, UC Davis' research enterprise reached a new milestone. In August, we announced the university set a campus record by attracting more than $1 billion in annual research awards. Fewer than 20 public universities in the country can claim this.
The research awards included topics in human and animal health, protecting the world's food supply, strengthening college preparation through diverse course pathways, and a broad range of others.
Here's one example: In December of 2021, a team of UC Davis researchers was awarded a $6.5 million grant from the Bill and Melinda Gates Foundation. This team is using 3D modeling, artificial intelligence and crop genetics to develop a tool to improve and accelerate breeding pipelines for legumes and sorghum, a species of flowering plants that's often grown for cereals and animal feed.
Their project is called GEMINI and has the potential to rapidly develop new crop varieties in the face of climate change.
It's examples like this that remind us that UC Davis is recognized as an institution that finds solutions and enriches our understanding of our world.
Philanthropy update/major gifts
Philanthropy at UC Davis is also doing very well. In fact, in each of the past three fiscal years, fundraising totals have continued to break previous records.
For the fiscal year of 2021-22, charitable giving surpassed the $300 million mark for the first time in UC Davis history. It actually crossed that mark by a good amount.
UC Davis raised $323 million overall. That included more than 58,000 gifts and pledges from 32,434 donors.
We are getting even closer to reaching our $2 billion campaign goal by 2024. As of February 6, the campaign had raised more than $1.83 billion dollars from more than 119,000 donors. That puts UC Davis at 92% of goal. The finish line is definitely in sight.
Gifts over the fiscal year included a $4 million endowment that was given anonymously to the Department of Viticulture and Enology. It will be used to support innovations in winemaking and grape growing through cutting-edge technologies.
Five million dollars was given by Sacramento businessman Jim Anderson to the School of Medicine to support comprehensive wellness. These funds will be used to establish the Office of Wellness Education and create the Jacquelyn S. Anderson Endowed Chair in Wellness in honor of his late wife, Jacquelyn "Jackie" Anderson.
Resnick gift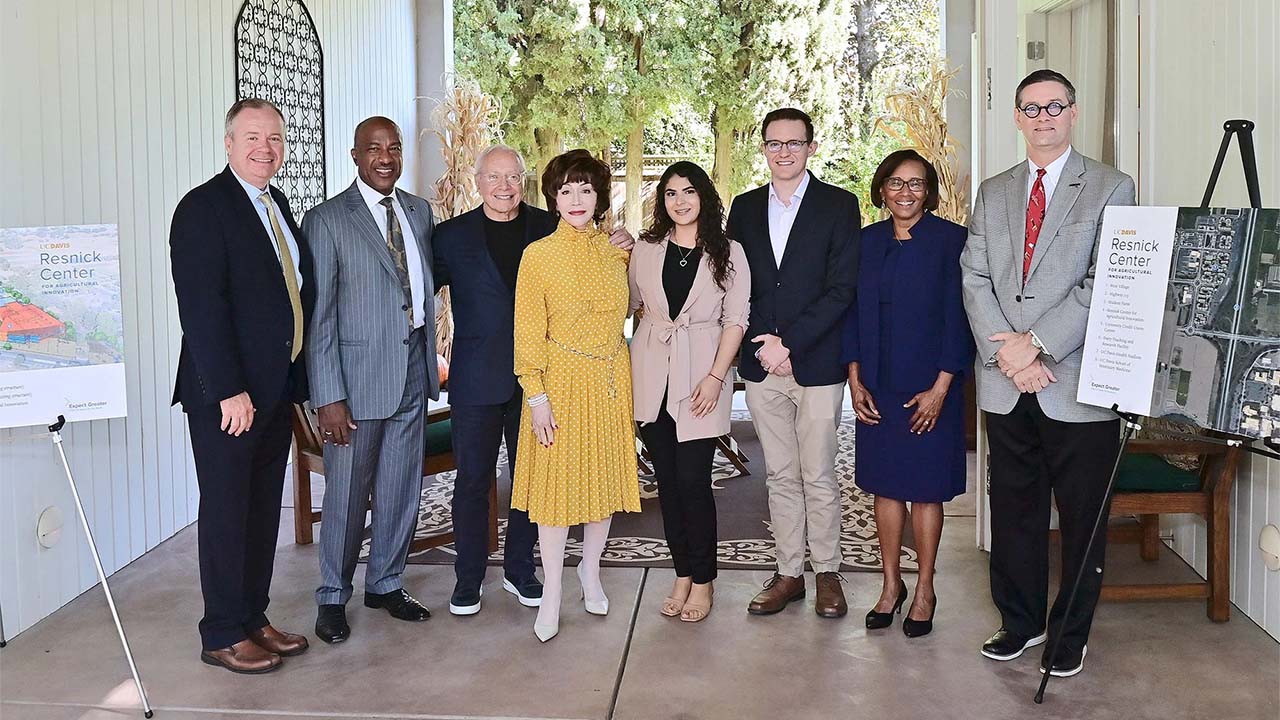 In October, we announced a gift that capped our record-breaking fundraising year.
Lynda and Stewart Resnick and their foundation at The Wonderful Company pledged $50 million to establish the Lynda and Stewart Resnick Center for Agricultural Innovation at our renowned College of Agricultural and Environmental Sciences.
This gift is the largest yet to our "Expect Greater" campaign — and the largest gift by individual donors that UC Davis has ever received.
The gift will fund construction of a state-of-the-art building for collaborative research, innovation and teaching in the agricultural and environmental sciences. A portion of those funds will be dedicated to competitive grants for byproduct research focused on specialty crops.
This gift will have a transformative impact on our campus and throughout California's agricultural industry.
Faculty honors/AAAS fellows
Now, I'd like to turn the spotlight on our faculty and share some significant accolades over the past year.
I'll start by recognizing eight UC Davis faculty members who were just announced as new fellows of the American Association for the Advancement of Science. They represent a wide range of fields, including technology, teaching, administration in academia, and excellence in communicating and interpreting science to the public.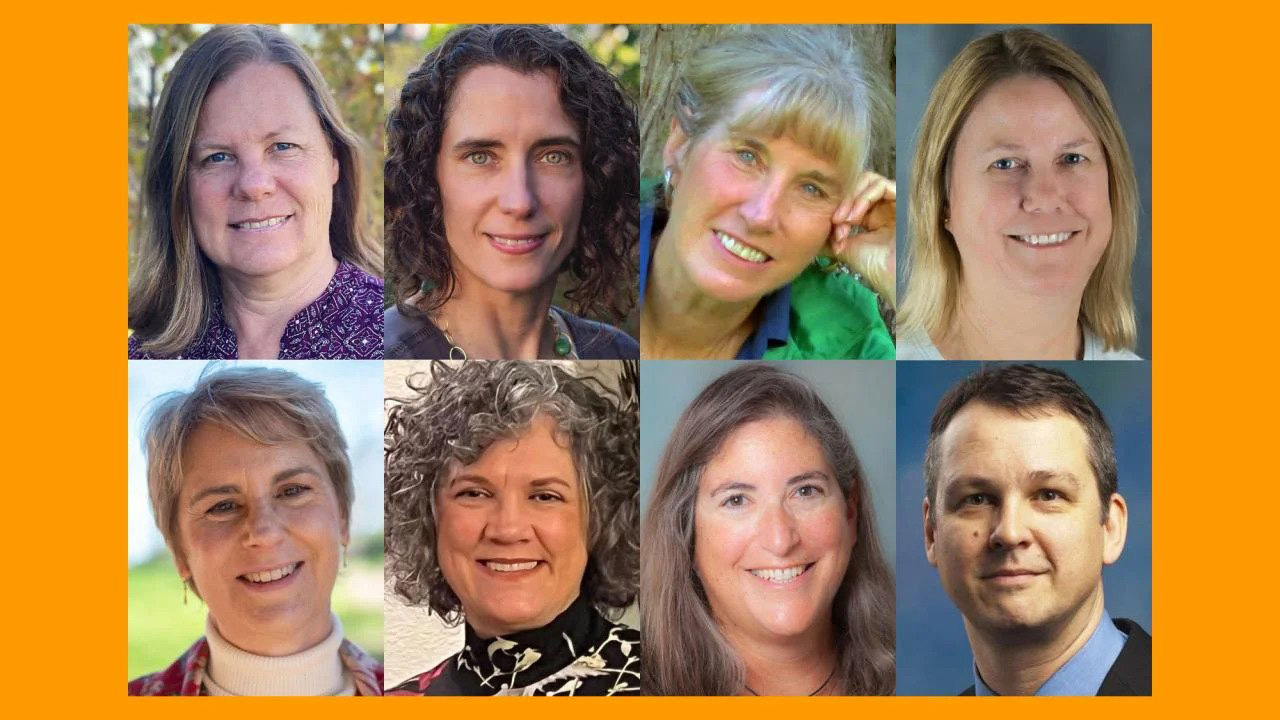 From left to right, congratulations to:
Danika Bannasch, professor in the Department of Population Health and Reproduction at the School of Veterinary Medicine
Annaliese Franz, professor of chemistry
Sarah B. Hrdy, professor emerita in the Department of Anthropology
Lynne Isbell, professor in the Department of Anthropology, Evolutionary Wing
Pamela Lein, professor of neurotoxicology at the School of VetMed
Maeli Melotto, professor in the Department of Plant Sciences
Roberta Millstein, professor emerit of philosophy
Frank Osterloh, professor of chemistry
Congratulations to all, and we wish you the best at your induction ceremony in March.
At our School of Viticulture and Enology, Antia Oberholster was recognized last month by Wine Enthusiast Magazine as one of its Innovators of the Year. She's among the world's experts in smoke taint, which is a major issue for the wine industry in the face of climate change and increasing wildfires. She and her colleagues are researching how smoke affects grapes, grapevines, wine composition and sensory perception of wine in a glass — or, what they call exposure "from smoke to glass."
Also, Michal Kurlaender, a professor of education policy, was appointed last month by Governor Gavin Newsom to the Education Commission of the States. The commission serves as a partner to state policymakers to create effective education policies. She also serves as a Chancellor's Leadership Professor and was elected in 2020 to the National Academy of Education.
Finally, I'd like to recognize Professor Emeritus Mike Henderson, who exemplifies the impact and singular vision that UC Davis art faculty are known for.
In October, he was awarded the Margrit Mondavi Arts Medallion to recognize his contributions over more than four decades of teaching art at UC Davis.
I encourage you to see his work now at the Manetti Shrem Museum. The exhibit is ttiled "Mike Henderson: Before the Fire, 1965-1985," and it's his first solo U.S. museum exhibition in 20 years. His work is a testament of speaking truth to power through the arts and couldn't be more timely, especially his "protest paintings."
This is just a small sample of the excellence demonstrated by our faculty. All around this room are leaders and trailblazers in their respective fields.
Key recruitments
Moving forward, we continue to strengthen our team through new leadership hires and executive recruitments.
In June, I selected Clare Shinnerl to serve as the new vice chancellor of Finance, Operations and Administration, or FOA. She previously served at UCSF as senior associate vice chancellor of campus life services.
Clare started at UC Davis in August. As many of you know, her division impacts every aspect of our university, such as campus planning, facilities and finance.
Clare is known for her positive and collaborative working style, especially when dealing with complex issues. Welcome, Clare!
In September, we filled the position for vice provost of Enrollment Management. This is a key role in determining the size and character of UC Davis' undergraduate student body. After a national search, Malisa Lee joined us, coming from Fresno State, where she served as associate vice president of Enrollment Management.
I'd also like to note that UC Davis appointed Brian Hodge as its new registrar in August. Brian comes to us from Florida Atlantic University and will start at UC Davis on October 24. He has 25 years of experience in higher education administration, and UC Davis will benefit from his background and leadership in enrollment management.
In more recruitment news, we welcomed Tammy Kenber as our chief human resources officer in December. She comes to us from the California State University Office of the Chancellor, where she served as associate vice chancellor for HR.
We will benefit from Tammy's a deep understanding of California's employment policies and labor markets. She says — quote — "It's in my DNA to help people." Moving forward, Tammy will be focused on employee compensation and pay equity, and other matters related to employee recruitment and retention.
And most recently, Michael Bradford was named vice provost and dean for Undergraduate Education in January. He comes to UC Davis from the University of Connecticut, where he served as vice provost for Faculty, Staff and Student Development.
Michael's passion for creating an environment for exceptional undergraduate experiences for all students makes him an incredible asset to our team and to this university.
He's also an award-winning director, playwright and producer, along with being a military veteran with 10 years of Navy service. Michael starts on February 21st.
Leadership searches
At the same time, UC Davis will be saying farewell to some key campus figures.
Prasant Mohapatra, vice chancellor of research, has accepted a new position at the University of South Florida. He will begin there March 1st as provost and executive vice president of Academic Affairs.
Prasant played a critical role in advancing our research enterprise. Under his leadership, UC Davis reached new milestones, including the $1 billion in research funding awards I mentioned earlier.
In the meantime, last week I named Professor Emeritus Jeffery Gibeling to serve as the interim vice chancellor for research. Some of you may know him from his role as chair of the Academic Senate from 1999 to 2002. Among other duties, he also served as interim dean of the College of Engineering in 2021 and was vice provost of Graduate Education and dean of Graduate Studies from 2002 until 2016
Jeffrey's role will become effective March 1st and will last approximately six months. An advisory committee will be formed soon to conduct a nationwide search for the next vice chancellor of research.
Also, we learned recently that Don Roth is retiring after 17 seasons as executive director of the Robert and Margrit Mondavi Center for the Performing Arts.
Don's leadership helped sustain the Mondavi Center as a cultural hub and world-class performing arts venue for nearly two decades. Under his watch, the Mondavi Center also stayed financially afloat during COVID-19, with he and his team delivering virtual performances from a variety of artists.
Don will be at UC Davis until August 31st, as the Mondavi Center concludes its 20th anniversary season. A national search will be launched to fill his role and we wish Don well in his retirement.
And, we have four more leadership searches that will be underway soon. That includes Leslyn Kraus, our campus's internal audit director, who is retiring in June.
Similarly, Bob Segar is retiring in June. He's worked at UC Davis for more than 25 years and currently serves as assistant vice chancellor of Campus Planning and Environmental Stewardship. He's played a main role in the development of Aggie Square and other definitive campus locations, and created the master plan for the West Village mixed-use neighborhood.
As part of further advancing Aggie Square, we will be recruiting UC Davis' first chief innovation and economic development officer. Among other things, this person will provide senior leadership for Aggie Square as it moves from planning into reality. This new leadership position will report directly to the chancellor and will be a member of the Chancellor's Leadership Council.
Finally, two members of the Council of Deans and Vice Chancellors will be retiring this year. MacKenzie Smith is retiring in June after serving as university librarian and vice provost of Digital Scholarship.
In June, Susan Catron will be stepping down as well from her role as dean of the Division of Continuing and Professional Education.
I thank them both for their long-standing dedication to UC Davis and wish them well in their new chapters. More information about the recruitments for these leadership roles will come later this year.
Looking ahead
Looking ahead, I remain focused on enhancing student success and well-being, including on students' basic needs; and on building our research and entrepreneurship. I'm committed to our university becoming even more inclusive.
On that note, we expect to be designated as a federally designated HSI or, Hispanic-Serving Institution, in the fall. This means we have a full-time equivalent enrollment of undergraduates that's at least 25% Hispanic students. We are right on the cusp of this designation, with 24% Hispanic enrollment currently. For that, UC Davis is recognized as an "Emerging HSI."
Once we reach this number, UC Davis can apply for critical funding to support student success, innovation and institutional transformation. This designation is one that benefits all of our students.
In terms of enrollment, UC Davis serves more than 8,000 Chicanx/Latinx undergraduate students. That's the second-highest number of Chicanx/Latinx students in the UC system, which is second only to UC Riverside. Currently, we're just about 300 students away from reaching that federal HSI designation.
Also, we recently received a couple of distinctions for our efforts to serve Chicanx/Latinx students.
Last October, Hispanic Outlook Magazine named UC Davis one of the Top 100 Colleges and Universities for Hispanics.
The magazine also ranked UC Davis No. 3 among the top schools for Hispanics in graduate STEM programs. That's for the category agricultural, animal, plant, veterinary science and related fields.
Aggie Square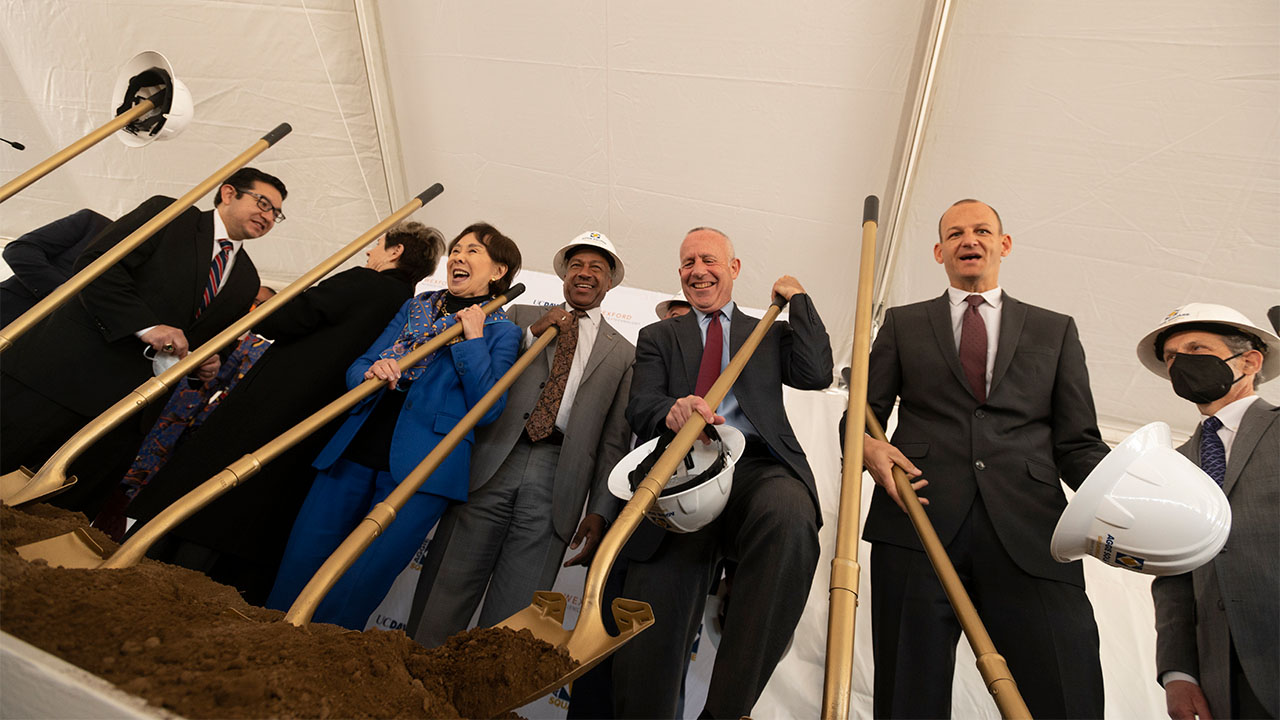 Now I'd like to turn our attention to my earliest project, Aggie Square.
Since we celebrated the groundbreaking in February of 2022, we've made significant progress. If you've been on our Sacramento campus lately, you've seen that construction is well underway. In fact, you can see the site's building cranes from the freeway. One of the construction project managers says that on a clear day you can see the cranes from El Dorado Hills on Highway 50, about 25 miles away.
To give you an idea of the magnitude of this construction project, consider that so far we've poured more than 13,000 yards of concrete for the foundation and the first two floors. That included three overnight pours involving 60 concrete trucks per hour and included 2.7 million pounds of rebar.
This first phase of construction will include two life science buildings with lab space, a classroom and an office tower, and a public square.
I'm excited about the possibilities for our students and faculty — for business partnerships, innovation, entrepreneurship — and most importantly, opportunities to leverage and expand UC Davis' transformative research.
Conclusion
I couldn't be more confident and optimistic about the upcoming year. We've shown over the last few years just how strong and resilient UC Davis is, that we thrive in the face of challenges.
The months ahead will certainly be busy, so I wish you all the best as winter quarter progresses. We're in the midst of planning our new spring commencement events for undergraduates at the Golden 1 Center in Sacramento.
In the meantime, I hope you read my "Checking In With Chancellor May" letters that are sent monthly and contain the latest updates about campus operations and other news. The next one will be arriving in your email tomorrow.
Thanks for this opportunity to meet with you. I'm happy to take your questions.
Primary Category
Tags