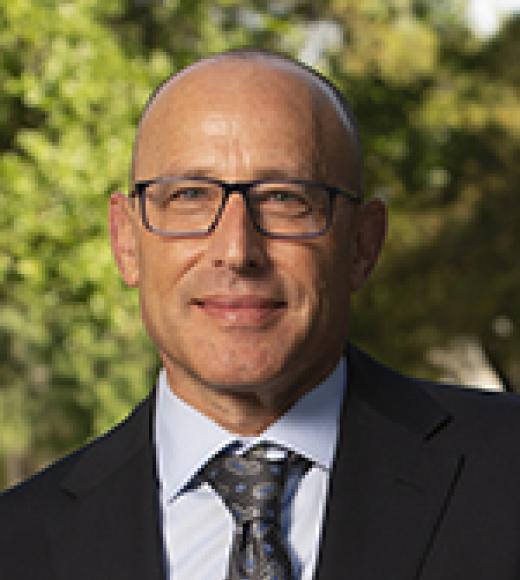 Position Title

Vice Chancellor for Human Health Sciences and Chief Executive Officer, UC Davis Health
Bio
David Lubarsky, M.D., MBA, is the vice chancellor of Human Health Sciences and chief executive officer for UC Davis Health. He oversees UC Davis Health's academic, research and clinical programs, including the School of Medicine, the Betty Irene Moore School of Nursing, the 1,000-member physician practice group, the community network, and UC Davis Medical Center, a 625-bed Level 1 Trauma hospital consistently ranked at the top of the nation by U.S. News & World Report and Becker's. With 14,000 employees, 1,000 students, 1,000 faculty members, an annual operating budget of $3 billion and around 1 million outpatient visits each year, UC Davis Health is a major contributor to the health and economy of the Sacramento region and is a center of biomedical discoveries that help advance health around the world, ranked in the top 30 nationally for medical research.
Since joining UC Davis Health in July 2018, he has recommitted the organization to expanding care for the underserved, earning UC Davis Health public acknowledgment as a leader in caring for Medi-Cal patients and others with few resources. Among the new initiatives, he established a partnership with Sacramento County Health Services to expand primary and specialty care to the underserved, reform the managed care system, and to address the crisis in mental illness and homelessness. He also strengthened the system's many community connections, reaching many more people who need UC Davis Health's world-class care and positioning UC Davis Health as a resource to complete, not compete with, other health systems.
A strong proponent of physicians and academic medical centers playing a leading role in shaping health care policy, he brought all 1,000 physicians into the California Medical Association and its Sierra Sacramento Valley Medical Society. He embraces team practice and advanced nursing practice, with the schools of Medicine and Nursing pursuing new levels of interprofessional learning, training and practice.
Serving more than half of California's counties as the only academic medical center between San Francisco and Portland, he partnered with Adventist Health and the California Medical Association to address recruiting, training and retaining doctors in rural areas throughout Northern California, and championed novel training programs to advance rural and inner city care now embraced by the AMA as national models. To adapt to health care's evolution and leverage UC Davis' early success in creating California's telehealth backbone, he's creating a digital platform and virtual hospital to lead in technology and connectivity and reinforce the values of empathy, inclusivity and a patient-centric ethic.
A committed academic physician, he is a UC Davis professor of anesthesiology, nursing and business. Before joining UC Davis, he spent six years as chief medical officer and systems integration officer at the University of Miami Health System, pioneering the current integrated structure as the first CEO of the system's 1,100-physician practice. From 2001 to 2018, he was also a professor of anesthesiology and department chair in UM's Miller School of Medicine, while serving as a professor in the schools of Business and Nursing. Before Miami, he was a professor and vice chair at Duke University and adjunct professor at Duke's Fuqua School of Business. He's one of the top 100 published anesthesiologists in America, with several articles defined as landmark contributions.
He earned his Bachelor of Arts in history (1980) and medical degree (1984) at Washington University in St. Louis. He completed an anesthesia residency and a fellowship in cardiovascular anesthesia and clinical research at New York University Medical Center. He received his MBA (1999) from the Fuqua School of Business at Duke University, graduating at the top of his class.
If he has any free time, you can often find him on long rides around the region on his bike.
Tags